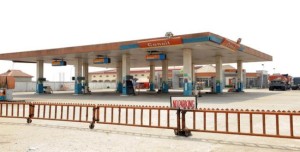 The Department of Petroleum Resources (DPR) has expressed worries over the increasing cases of fire outbreaks in filling stations across the country.
The agency attributed the problem to the neglect of safety rules and regulations by filling station owners.
The Operations Controller, DPR Kaduna Zonal Office, Isah Tafida, told dealers of petroleum products, filling station owners and other stakeholders in Gusau on Wednesday, that they must take steps to avert the situation.
Tafida filling station owners must raise their level of compliance to rules and regulations on safety, and in the conduct of their workers.
"Based on our findings, we observe that most of the fire incidences in filling stations were caused by poor attitude and neglect to safety rules and regulations by the station owners.
"Majority of the filling stations, especially those run by independent marketers are without fire extinguishers and functional water sources.
"Another area of concern by the DPR is the issue of hawkers at filling stations, they have turned the filling stations to markets, despite the dangers associated with such activities.
"The DPR will not continue to allow hawkers loitering in an environment that is always laden with highly inflammable fluids.
"We are therefore calling on you to ensure that all safety equipments in your filling stations are functional, while hawking and loitering should henceforth stop."
The controller said he was in the state to interact with key stakeholders on issues affecting the smooth operations of the downstream sector, with a view to finding lasting solutions.
He said the cordial relationship between the DPR and other stakeholders must be sustained for the development of Nigeria's oil industry.
The representative of the state Fire Service Department, Abdullahi Jibo, urged the filling station owners to comply with safety measures to protect lives and property.
Jibo said that over 120 cases of fire incidents were recorded in 2016 in the state, and a total of 50 cases since the beginning of 2017.
He attributed the causes of about 70 percent of the fire incidents to negligence on the part of the people.
Earlier, The Chairman of the Independent Petroleum Marketers Association of Nigeria (IPMAN), Gusau Depot Unit, Alhaji Sirajo Kamba, promised to improve on the relationship between the DPR and members of the association in the state.
Kamba said that IPMAN as law abiding association was ever ready to cooperate with DPR and all stakeholders to ensure the effective delivery of petroleum products to the public.
The Department of Health, Safety and Environment of the DPR presented lectures on Safety Measures during the meeting.