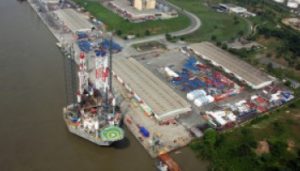 The Port Manager of Calabar Port, Olufumilayo Olotu, says the much anticipated dredging of the Calabar Channel will begin in a few weeks.
Olotu disclosed this on when she led the management team of Calabar Port on a courtesy visit to the Obong of Calabar, Edidem Ekpo Okon Abasi Otu V on Wednesday in Calabar .
"I am happy to announce to you that the advert for the dredging of Calabar Port will be out in the next three weeks.
" It is a real dredging not photo dredging. Very soon, we will have container vessels; Roro vessels and other bigger vessels coming to the Calabar Port.
"I pray that all of us will be alive to witness the return of full activities at the Calabar Port," she said.
She, however, appealed to the traditional ruler to prevail on the state government to review its tax regime as it concerns the port to enable business thrive.
"I appeal that we should all partner together with both the Obong and the state government to make operations at the port easier for investors.
"Everything that is required to make the operations at the port smooth must be done.
" Let taxes be moderate and affordable to allow our business partners to operate successfully," she said.
The manager also told the monarch that a flat bottom vessel from Greece, "MV Desert Ranger, '' was already in the port awaiting to be unveiled.
Responding, the monarch described the visit as very exciting, especially as it brought the the news of the impending commencement of the dredging of the port.
He emphasised the importance of the port to the economy of Cross River and Nigeria at large.
"The Calabar Port was meant to serve Cross River; Southeastern Nigeria and the North East.
" So all we have to do is to continually pray that the dredging will come to pass.
"With the functionality of the port, we know that economic activities in Calabar and the neighbouring states will come alive again," he said.