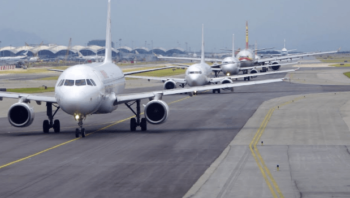 The House of Representatives has called on the Nigerian Civil Aviation Authority (NCAA) to conduct regular pre-flight tests on pilots to ensure that they are not under the influence of any substance.
The lower chamber also warned pilots and crew members against flying under the influence of alcohol and other psychoactive substances capable of altering their moods.
This was sequel to a motion brought before the House by Hon. Taofeek Adaranijo, on Thursday over the alarming cases of airline pilots being under the influence of alcohol.
Adaranijo said pre-flight alcohol consumption, apart from being a breach of the NCAA Regulations, also constituted a serious safety threat to passengers.
The lawmaker recalled that since 2016, the NCAA had been recording cases of alcohol and substance consumption by aircrew members, an indication of a growing trend.
He stated: "In December 2016, the NCAA suspended the medical certificates of five members of the crew, who tested positive to marijuana during a drug screening conducted on participants of the Cabin Crew Training Basic Course at the Nigerian College of Aviation Technology, Zaria, Kaduna State.
"When the NCAA in May 2017 conducted random tests on 87 personnel from Air Peace, Med-View and Air Traffic Controllers of the Nigerian Airspace Management Agency as they were about to embark upon flight operations and air traffic control duties, a member of the crew tested positive to a psychoactive substance; Tetrahydrocannabinol.
"The substance is known to be the chemical responsible for most of marijuana's psychological effects.
"Psychoactive drugs work by manipulating the synapses in-between nerves in the central nervous system, thereby distorting thought processes and causing a variety of side effects such as anxiety, psychosis, mood swings, depression and sleep problems, all of which are not suitable for the job demands of pilots/members of crew."
Adaranijo noted that to fly to safety, "a pilot or member of crew requires the highest level of sobriety and clear-headedness," adding that the "use of alcohol or psychoactive substances endangers the lives of passengers on board an airplane."
The motion, which was passed in a unanimous voice vote, also asked airline operators to "diligently ensure that only sober pilots/members of the crew are allowed to fly their planes and this diligence should extend to the initial period of employment."