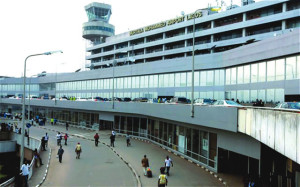 Barring any unforeseen circumstance, the Murtala Mohammed International Airport (MMIA) would be certified at the end of the month, Director General of the Nigeria Civil Aviation Authority (NCAA), Capt. Mukhtar Usman has assured.
Once the certification of Lagos, the busiest airport in the country is completed in line with the requirement of the International Civil Aviation Organization (ICAO), the Nnamdi Azikiwe International Airport (NAIA), Abuja would follow in September.
Speaking with newsmen in Lagos yesterday, the DG noted that the ongoing reconstruction of the runway in Abuja would aid the certification process and enhance safety.
However he is confident that the certification of Lagos is on course and would be actualized by the end of April.
Usman said, "Based on our programme our target for certification of Lagos airport is end of this month. We have gone very far to ensure it is certified in accordance with the International Civil Aviation Organization (ICAO) standard and recommended practices.
"For Abuja we are targeting latest end of September for certification. But everything is on course, so far so good. We are all on schedule to deliver.
"Certification is a requirement by ICAO for all international airports and we are working on that. It is not all the countries in the world that have their aircraft certified especially here in Africa. We are trying and a lot of the countries in Africa, the few that were able to do it managed to certify one. We are aiming to certify two almost the same year and the remaining airports would follow."
He said the certification was being vigorously pursued to enhance safety of all airport users, adding, "We are all for safety. Without safety, nobody would come around the airport. The catchword is always safety."
"The certification would enhance that safety and would be at par with the requirement of ICAO. We are working very hard. We would continue to work even harder and we would extend the certification to even those other airports that are not required by the ICAO", he said.           
Copyright Ships & Ports Ltd. Permission to use quotations from this article is granted subject to appropriate credit given to www.shipsandports.com.ng as the source.