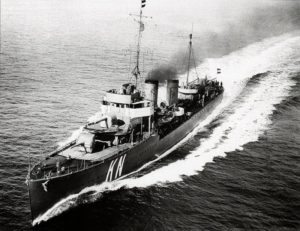 The Dutch prime minister on Friday called the disappearance of the wreckage of several allied warships dating back to the 1942 Battle of the Java Sea "unacceptable" and expressed hope that Indonesia would help solve the mystery.
A team of international divers searching for Dutch, British and American warships ahead of the 75th anniversary of the decisive World War Two battle discovered that two Dutch ships, the De Ruyter and the Java, are no longer where they sank, the Dutch Defence Ministry said. Part of a third ship, the Kortenaer, had also disappeared.
The three ships were part of a fleet of allied vessels, including Australians, that set off from the last remaining allied port in Southeast Asia, the Indonesian city of Surabaya, to stop the Japanese advance. It was defeated and thousands were killed when the vessels were sunk.
"The fact alone that war graves were violated is an extremely serious matter, with far reaching implications for the survivors and for all of us," Rutte told journalists in The Hague on Friday.
Rutte said the removal of the underwater graves of nearly 1,000 Dutch marines would be discussed during a government trade mission to Indonesia next week.
"Imagine that a war cemetery … would be seriously damaged or desecrated, that would be totally unacceptable and the same counts for what happened here," he said.
Indonesian Navy spokesman Gig Jonias Mozes Sipasulta said the ships should have been protected under international law.
"Normally in these cases those places can be turned into heritage sites, but for this there needs to be a discussion and a written request from the government of the country that feels they own the vessel, with the Indonesian government," he said.
Rutte said "the Indonesians are working with us to get to the bottom of this" and that it was unclear who was responsible for removing the remains, which may have been salvaged for scrap.
The search for the ships was initiated by the Karel Doorman Fund, named after a Dutchman who led the doomed allied naval assault in February 1942.
Copyright Ships & Ports Ltd. Permission to use quotations from this article is granted subject to appropriate credit given to www.shipsandports.com.ng as the source.