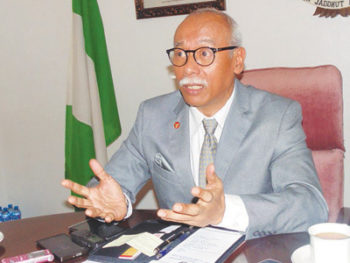 The Indonesian Ambassador to Nigeria, Harry Purwanto, said the volume of trade between Nigeria and his country reduced to 1.7 billion dollars in 2016 from 1.75 billion in 2015.
Purwanto told the Newsmen in Abuja on Monday that the volume was far below four billion dollars recorded in 2014.
"It is rather discouraging because in 2014, our trade with Nigeria was almost four billion U.S. dollars.
"In 2015, it went down to about 1.75 billion dollars because of, perhaps, the oil prices and the global difficulties in economic and financial times.
"The volume of trade is almost the same with that of 2015 but the value is going down," he said.
The envoy, however, believed that both countries could improve on their trade relations because they had some things in common.
"We share many commonalities – the youth potential between our two countries economically and we both share ideas on political outlook.
"We put our focus on the high potential of the two countries and we want to transfer these modalities into mutual progress and prosperity for both countries and also find solutions for international challenges.
"That is why, on our part, we try to encourage more interaction between the business communities of the two countries.
"We want to see stronger organisations who can be vehicles and motivators to encourage more of the Nigerian business community to see opportunities in Indonesia and explore more businesses bilaterally," he said.
He said that Indonesia and Nigeria already had established diplomatic relations for a long a time after democracy in Indonesia.
"We have our embassy in Nigeria and also Nigeria has its embassy in Jakarta and they are always in the same line in trying to find solutions to the world issues at the international fora.
"Both countries are blessed with natural resources, because some of the natural resources you have in Nigeria are also available in Indonesia such as coal, gold, uranium and so forth.
"The two countries can complement each other because they are on the same page being developing countries; they can learn from each other; learn from achievements, mistakes and many other things.
He said that the countries had so many things in their cooperation.
"Sometimes it is not so big but even as small as some of them are, they are very significant in nurturing the relationship and maintain our cooperation.
"As a friendly country, Indonesia has been following happenings in Nigeria ranging from your achievements to your challenge; really we learn from Nigeria; we also sympathise with Nigeria over its challenges.
"As Indonesia Ambassador representing his country, I always make some efforts in encouraging more interaction with the country not only government to government but people to people and business to business," he said.
He said that Indonesia relied more on business communities because they help to open up new relationships.
He said that Indonesia businesses were thriving in Nigeria, adding that such companies include Indomie and Indorama which were very successful in Nigeria.