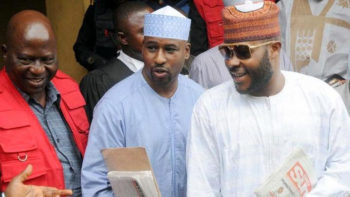 The Economic and Financial Crimes Commission, EFCC, Tuesday re-arraigned the sons of a former Peoples' Democratic Party chairman, Bamanga Tukur, and late billionaire businessman, Ariseokola Alao, before an Ikeja Division of the Lagos State High Court on 38 counts of fuel subsidy fraud.
Mahmud Tukur and Abdullahi Alao are accused of conspiracy, altering of documents, and obtaining N3.1 billion under false pretence.
Re-arraigned alongside the duo were Alex Ochonogor, Eternal Oil Plc, Axenergy Limited, and Star Inspection Services Nigeria Limited.
The defendants were first arraigned in July 2012 over a nine-count charge of fuel subsidy fraud amounting to N1.8 billion.
The EFCC accused them of fraudulently collecting the money from the federal government as petrol subsidy without actually importing any petrol.
But the prosecution was stalled after the defendants began negotiations with the anti-graft agency. The talks fell through months later.
In 2013, the EFCC re-arraigned the defendants before Justice Lateef Lawal-Akapo after the trial judge, Adeniyi Onigbanjo, was transferred to the Commercial Division of the court.
Tuesday's re-arraignment of the defendants before Justice Hakeem Oshodi was the third since the trial began in 2012.
In the charge, the EFCC said the defendants conspired to fraudulently obtain N3.1 billion from the federal government under the fuel subsidy regime.
The anti-graft agency accused the defendants of claiming to have imported 17,343,668 litres of fuel through the mother vessel, MT Emirates Star, with the bill of lading bearing April 28, 2011, as against the actual mother vessel, Gunhild Kirk, with the bill of laden date of April 3, 2011.
The defendants pleaded not guilty to all the charges.
Tayo Oyetibo, counsel to the first and second defendants, prayed the judge to allow his clients to continue on the bail granted them by the previous trial judges.
Oshodi granted his request and adjourned till July 7 for trial.  
Copyright Ships & Ports Ltd. Permission to use quotations from this article is granted subject to appropriate credit given to www.shipsandports.com.ng as the source.