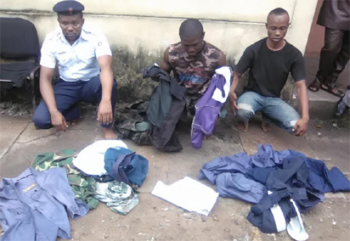 A suspected fake naval officer, his Army accomplice and their official tailor have been arrested by the police in Lagos in a failed robbery operation along Ijora Bridge, Lagos state.
The suspects whose names were given as Chukwueke Kingsley, Chidi Ibrahim and Alaba Akanni, were arrested by operatives of the X-Squad, Zone 2 Police Command while on patrol at about 10:00 pm.
According to the Police Public Relations officer, Superintendent of Police, Dolapo Badmus, the suspects were arrested while robbing a motorist.
The victim of the robbery attack, a 31-year-old tyre dealer at Idumota market (name withheld), said, "The suspects double crossed and surrounded me. They searched and seized everything on me and also hypnotised me.
I was on my way home that fateful day when these two officers double crossed me with their vehicle forcing me to stop. One of the suspects now came and robbed something on my shoulders and I started giving them all that I had. I gave them about N7, 000, two phones and my car key.
"They were trying to escape with my car when police men saw them and came over. They now asked me what happened but I told them there was no problem. I told them these men are my friends but they collected my phones, my car key and everything.
I was not myself, it was like they used juju on me. It was then that the policemen arrested them and asked the suspects whether they were military officers and Kingsley said yes. But upon interrogation, the officers discovered that he was not a naval officer and Ibrahim too was not an Army officer as they claimed.
While corroborating the story, a police source said: "Our men on patrol sighted the men at about 10: 00 pm and sensed that the man could be under robbery attack and got closer to the scene only to discover to their chagrin that he was actually a victim of robbery. The victim was visibly drunk when the incident happened. It is not true that he was hypnotised. He was actually drunk and not himself when this incident happened. Nobody hypnotised him."
One of the suspects, Chukwueke Kingsley, 25,said to be the leader of the gang said that he impersonated the navy because of the love he has for the job.
According to him, he does not use the uniform to rob but to provide escort to people who need his services adding that, he has been applying to join the navy and other security agencies since 2016 without success.
He stated: "I do not carry gun. I was arrested without a gun. I only work as an Okada rider and I do provide escort to people. I charge about N1.500 depending on the journey. The price is not fixed and I cannot guess how much I have made so far. I got this uniform since 2016. I do not even have money now. The naval officer who gave me the naval cap badge is dead now. I do not know whether he was genuine naval personnel or not. I learnt of his death when I came back from the Eastern part of the country where I went to write my West African Examination Council, WAEC."
Narrating what led to his arrest, Chukwueke said his uniform was in the bag when he was arrested.
"My uniform was in the bag when the incident happened; it was when they opened my bag that they saw it. I operate my motorcycle at Mile 2 area of Lagos. I was doing my business at Ijora Bridge when I saw the complainant who jammed somebody's car arguing and I went there to intervene. I was there with my bike. That was Friday, on the 5th of May, 2017.
"I heard him speaking in Igbo, calling for help and I now stopped to assist. He took me by the corner and said if I help him, he will give me N3,000. After I helped him, I now spoke in Yoruba to the person he jammed his car and the person collected N1000. When the person sensed that I am an officer, he handed over his car key to me. He reneged on the promise claiming that he does not have money again, that he has only N1000 left with him. He said if I doubt him, I should search him. When I searched him, he started shouting robbers. That was when the police came."
A police source said that Chukwueke ran to the navy barracks and brought two other naval officers alongside him to come and settle the matter with the police unknown to the unsuspecting officers that the suspect was actually fake naval personnel.
"When the naval officers came, they asked him to provide his identity card; he was hesitant but later brought it out. Upon examination by the officers, it was discovered that the identity card was not the original one and they quickly abandoned him to his fate with the police."
The second suspect, Chidi Ibrahim, a 25- year- old indigene of Lantang, Plateu state who was wearing an army singlet and short when he was caught said:
"I am from Lantang and married with two children. I was formerly a barber. When I saw that things were not going well and I wasn't making enough money, I bought a bike which I use to convey passengers. What happened was that I saw Kingsley, a fellow Okada rider having an argument with someone and I stopped to find out what happened. I did not know that he was a fake naval officer. I only know him as an Okada rider. My father was a retired army officer.
"It was when the police now came to intervene that they said since I was there as an eyewitness, I should come and narrate what happened, before they discovered this army singlet on me and decided to arrest me as a suspect."
When asked if he was using the bike to rob he denied saying: "I don't do such, I am a scout. On that faithful day, I carried a passenger from Ijora to wharf. On my way back, I saw Kingsley and the complainant arguing on the road and I stopped to intervene before I was arrested."
Copyright Ships & Ports Ltd. Permission to use quotations from this article is granted subject to appropriate credit given to www.shipsandports.com.ng as the source.