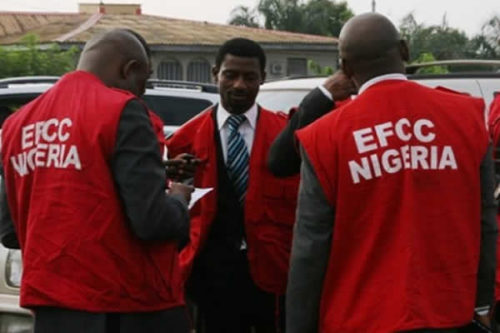 The Economic and Financial Crimes Commission (EFCC) said its officials seized gold worth N211 million being illegally transported through the Murtala Mohammed International Airport (MMIA), Lagos.
EFCC spokesman, Tony Orilade, disclosed this in a statement in Abuja.
According to Orilade, the package was to be taken to Dubai, United Arab Emirates before it was confiscated.
Although unnamed, the EFCC official said the suspect was nabbed at the point of departure and has been cooperating with the commission to lay hold of his accomplice.
"Following intelligence reports, the operatives on November 9, 2018 uncovered the gold weighing about 35kg just at the point of departure of a suspect currently in the EFCC's custody. Meanwhile, the suspect is cooperating with operatives," he said.
Orilade said the Nigeria Customs Service had in March 2017, intercepted bags of money containing a total of N49 million cash.
The money, he said, was being illegally transported by one Adamu Rabiu Mohammed who was heading to Dubai, through the Kaduna International Airport.
Section 2(3) of the Money Laundering (Prohibition) Act, 2011 prohibits individuals coming into or leaving the country from carrying an excess of $10,000 in "cash or negotiable instruments", except the amount is declared to the NCS.
Anyone who fails to declare or makes false declaration under section 2(5) "shall be liable on conviction to forfeit the undeclared funds or negotiable instrument or to imprisonment of not less than two (2) years or to both."