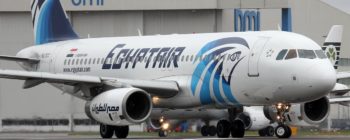 State-owned EgyptAir signed a letter (LOI) of intent on Tuesday to order 12 Bombardier CSeries jets valued at $1.1 billion at list prices.
EgyptAir Chairman Safwat Moslem told a Dubai Airshow news conference the CS300 aircraft would be used by the airline's domestic and regional carrier EgyptAir Express.
EgyptAir is Bombardier's latest Middle East customer, having already signed agreements with Iraqi Airways, Bahrain's Gulf Air, among other regional carriers.
Bombardier Commercial Aircraft President Fred Cromer could not say whether EgyptAir would be the first Middle East airline to operate the CSeries.
No Middle East customer has said when it would take delivery of CSeries jets.
A U.S. trade commission will decide in early 2018 on whether to impose duties of nearly 300 percent on the CSeries, after Boeing complained the planes had been subsidised and sold below cost in the United States.
Airbus agreed in October to take a majority stake in Bombardier's CSeries jetliner program, and has said any CSeries jets intended for the U.S. market would be built at its production facility in Alabama, potentially allowing the planes to avoid punitive duties.
Cromer said EgyptAir's CSeries jets would be built in Canada, if the Middle East carrier confirms its order.
The LOI also includes purchasing options for a further 12 CSeries which if exercised would increase the total value of the deal to nearly $2.2 billion.
Agency Report