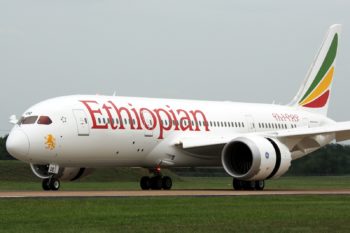 By Patience Danjuma 
Ethiopian Airlines has said that it would deploy its newest Boeing 787-9 plane tagged the "Big Brother" to Abuja on Tuesday.
A statement by the airlines Media Consultant, Chukwuemeka Chigozie, on Monday, said the B787-9 was part of its commitment to deliver exceptional service to African market by operating the latest technologically advanced aircraft in the market.
According to the airline, passengers had enjoyed the unique on board features of this latest technology aircraft like the biggest windows in the sky, high ceiling, less noise, distinctive lighting, and higher air humidity.
Chigozie said Ethiopian Airlines has always services Abuja with its newest Aircraft.
"It brought the Dreamliner B787 to Abuja in 2012 and reopened the Abuja Airport this year with the A350 when the Airport was reopened after 6 weeks closure.
"Ethiopian Airlines has been operating into Nigeria since 1960 and currently flies to 5 cities in Nigeria and it was the only international Airline that flew to Kaduna when Abuja Airport was shut for repairs.
"Ethiopian becomes the first carrier in Africa to operate the 787-9 and extends a tradition of setting aviation milestones,'' he said.
The airline became Africa's first carrier to fly the 787-8 in 2012, and also introduced the 777-200LR (Longer Range), 777-300ER (Extended Range) and 777 Freighter.
The 787 Dreamliner was the most innovative and efficient airplane family flying today, and more than 600 Dreamliners had entered commercial services since 2011.
He said Dreamliner has been flying almost 200 million people on more than 560 unique routes around the world, saving an estimated 19 billion pounds of fuel.   
Copyright Ships & Ports Ltd. Permission to use quotations from this article is granted subject to appropriate credit given to www.shipsandports.com.ng as the source.