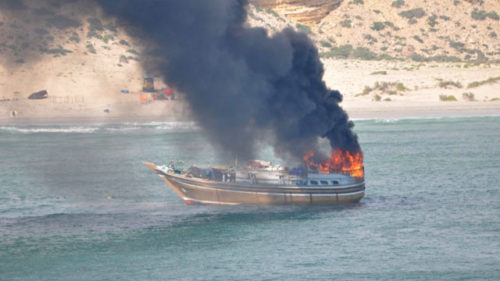 Military personnel with the EU Naval Forces have destroyed a whaler that was used by Somali pirates to attack a Hong Kong-flagged bulk carrier earlier this month off the coast of Somalia.
The attack took place October 16th as the bulk carrier, M/V KSL Sydney, was approximately 340nm from Mogadishu off the east coast of Somalia. During the attack, four pirates armed with AK-47s approached the KSL Sydney in a speed boat and opened fire, but the attack was thwarted when armed guards on board the bulk carrier returned fire.
Immediately following the attack, counter-piracy forces with EU NAVFOR Operation Atalanta were sent to investigate.
The whaler believed to have been used in the attack was eventually tracked down by the crew of ESPS Castilla in a small bay just off the Somali coast, where it was ordered to be seized before being towed out to sea and destroyed.
Admiral Nanclares said, "Using the resources of Op Atalanta we were able to identify, track and destroy the equipment of a Pirate Action Group making it harder for them to attack maritime shipping in the future. We will continue to deter and prevent acts of piracy with every chance we get in order to ensure vulnerable shipping and their crews remain safe while they transit the Western Indian Ocean".
The attack on the KSL Sydney was only the second pirate incident reported off the coast of Somalia so far this year.
Copyright Ships & Ports Ltd. Permission to use quotations from this article is granted subject to appropriate credit given to www.shipsandports.com.ng as the source.