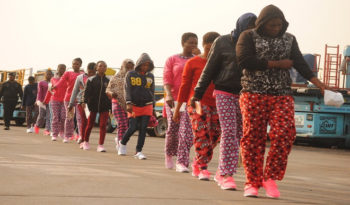 The European Union (EU) is being urged by one of its front line states to significantly increase funding for the United Nations to return migrants stranded in Libya to their home countries further south in Africa.
A proposal by Malta, which currently chairs EU meetings, was presented to the other 27 members of the bloc earlier in February, and seen by Reuters on Tuesday.
Malta and Italy bear much of the immediate burden of dealing with African migrants who leave lawless Libya on boats in often dangerous conditions.
Some 1.6 million refugees and migrants reached Europe via the Mediterranean in 2014-2016, including many who crossed further east between Turkey and Greece.
Malta's proposal comes ahead of a summit of the bloc's 28 national leaders next week who will look at putting into practice agreements on new steps to stem immigration from Africa.
The U.N.'s International Organization for Migration (IOM)estimates there are between 700,000 and one million migrants in Libya. It aims to help 7,000 people stranded there go back home this year, more than doubling its return programme from 2016.
The EU has already promised more funding to that end. Last December, Brussels, Berlin and Rome pledged a total of 100 million euros for three years to the IOM to support voluntary returns and reintegration for African migrants.
With Libya being the main focus now, the EU's Trust Fund for Africa has provided an initial 12 million euros towards its current goal of returning some 5,000 people from Libya this year — part of the IOM's overall target of about 7,000 returns.
But the Maltese plan calls for "significant increase in the number of migrants accepting voluntary returns to their country of origin beyond the current target of 5,000." It also says: "Funding should increase significantly."
Earlier this month at a meeting in Malta, the bloc promised support to the U.N.-backed government in Libya to help bring about stability, as well as to curb migration from the coast.
If the strategy succeeds and their exit towards Europe becomes more difficult, the struggling government in Tripoli fears an even larger migrant buildup in Libya and has asked the bloc to beef up Libya's southern border and help return people.
Charter planes taking off from Tripoli under the IOM programme have already sent back 589 migrants so far this year, mainly to Senegal and Nigeria. For the most vulnerable ones, it offers additional help to let them get started back at home.