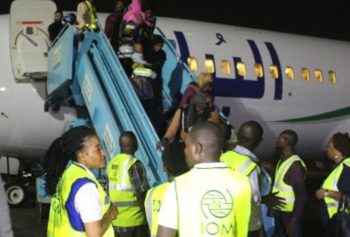 No fewer than 643 migrant Nigerians voluntarily returned from Libya in the last five weeks, the National Emergency Management Agency (NEMA) has said.
The Director-General of NEMA, Mustapha Maihajja, made this known while receiving a new batch of 166 returnees who arrived in Lagos late Thursday.
Maihajja, who was represented by the South West Zonal Coordinator of NEMA, Yakubu Suleiman, stated that the Nigerians were assisted back by the International Organisation for Migration (IOM).
According to him, the returnees arrived at the Cargo Wing of the Murtala Muhammed International Airport, Lagos at 10.50 p.m. on Thursday night aboard a Libyan airline with registration number, 5A-DMG.
He said, "After profiling, the returnees were 66 female adults including three pregnant women, five female children and one female infant along with 83 male adults, six male children and five male infants."
Maihajja urged parents and guardians to desist from encouraging their children and wards from embarking on journey that will end up derailed the promising futures of the victims of trafficking.
The NEMA boss said the appeal was due to the testimonies and confessions of the returnees and confirmations by most of the families that the victims came from.
Maihajja pointed out that the intended countries of destinations were no longer ready to accommodate migrants due to several socio-economic and security factors.
He said, "There are unconfirmed reports of emerging trends of alleged human organ harvesting from irregular migrants who are alleged to be sold to harvesters.
"If these developments are real, then we must discourage irregular migrations in whatever forms."
He reiterated that the Federal Government would not relent in its efforts at creating a conducive environment for every Nigerian to maximise his or her potentials in the progress and development of the nation.