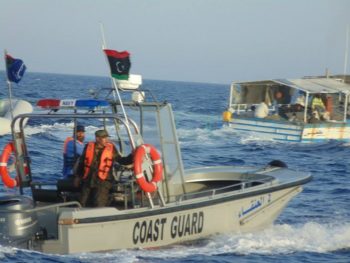 The EU's anti-trafficking operation is working to train Libya's coastguard on how to respect the human rights of migrants recovered at sea, the mission's commander said Thursday.
The operation, dubbed Sophia, was created two years ago to combat human trafficking in the Mediterranean, and has rescued about 42,000 people attempting the perilous crossing from Africa to Europe since then.
"We have arrested 119 alleged smugglers, destroyed boats, (and) trained 201 coastguard personnel," Italian Admiral Enrico Credendino said on the sidelines of a seminar on migration and security in Rome.
The coastguard training has proved controversial, though, with critics saying that Europe is helping to infringe human rights by helping Libya block boats at sea and return migrants to deplorable centres in the crisis-hit country.
Credendino said Sophia — which will soon increase the number of coastguard members it trains — aimed "to give Libyans the ability and skills to work properly at sea", including on the humane treatment of migrants.
"That is why teams from the European Union, the UN's refugee agency (UNHCR) and the International Organization for Migration (IOM) train them to respect human rights and the standards of international humanitarian law," he said.
He said rescue operations at sea were difficult "because it's just not the coastguard that sails in these waters, there are also militias that use the same speedboats and the same uniforms, and it's not easy to know who is who".
The Sophia operation said last month that the number of migrants setting off for Europe had fallen by 20 percent so far this year, in part because of the support given to the Libyan coastguard, which received four Italian patrol boats and training.
The EU launched the anti-trafficking operation in 2015 after two shipwrecks killed 1,200 migrants in April that year. Its mission was renewed in July until the end of 2018.
Agency Report