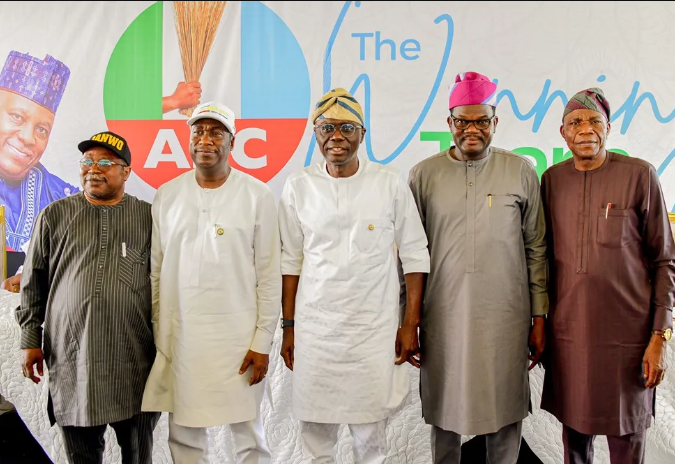 A former Director-General of the Nigerian Maritime Administration and Safety Agency (NIMASA), Dr Ade Dosunmu has dumped the People's Democratic Party (PDP) for the ruling All Progressives Congress (APC).
He also expressed support for the re-election bid of incumbent Lagos State Governor Babajide Sanwo-Olu.
Dosunmu, who is a former governorship candidate of PDP in Lagos State, served as the second Director-General of NIMASA from May 2007 to July 2009.
Announcing his decision to dump the PDP at a news conference on Wednesday, he said, "I am moving to the APC together with my teaming supporters and political associates. We arrived at this decision after a careful observation of the current political developments and atmosphere in our dear state. We also based our decision on the dynamic leadership of Asiwaju Bola Ahmed Tinubu and the manner with which the incumbent governor His Excellency Babajide Sanwo-Olu has been piloting the affairs of our dear state since he assumed the office about four years ago.
"My dear good people of Lagos, from the onset of this democratic dispensation in 1999, I have been a committed member of the People's Democratic Party (PDP) in Lagos State. You will also recall that had even, on the platform of the party, contested for the gubernatorial and senatorial seats respectively in 2011 and 2015.
Dosunmu said while in the PDP, he worked assiduously with like-minded people to build and make it formidable, but that the party had not made any appreciable progress in terms of electoral success/victory.
"Added to this is the self-inflicted internal wrangling/crisis in the party which has always affected its electoral fortune in the state. Looking at these pitfalls and the need to join other progressives in building a better country and state. I decided to retrace my political journey.
"More importantly, I have great passion for Nigeria's development and our beloved state – Lagos. Since I joined politics, my concern has always been for developing our fledgling democracy as well as ensuring its sustainability.
"Every nation that is well founded on democracy has found out that success in it depends on the leaders who believe that the act of governance is all about service to the people and not vice versa," he said.
Dosunmi added that the emergence of a truly dedicated and patriotic leadership, one that is capable of understanding the nitty-gritty of development as well as challenges of governing a modern state, has become imperative for Nigeria and Lagos State.
"These are the attributes which our leader, President-Elect Asiwaju Bola Ahmed Tinubu and Governor Sanwo-Olu have in large measure.
"The APC/Asiwaju's victory at the February 25, 2023 Presidential and National Assembly elections remains a landmark in the political and electoral history of our dear state and Nigeria as a whole.
"It is indeed a political phenomenon that has shaped, to a large extent, political events in our dear state. It has, indeed remained a permanent landmark in our political evolution and therefore calls for political realignment in the interest of service to the Nation and Lagos State.
"The President-elect, Asiwaju Bola Ahmed Tinubu is a great politician and a strategist. As governor of Lagos State (1999-2007), he brought brilliance, expertise and varied knowledge, exemplary vision and effectiveness to bear on governance in the state. Evidence of his brilliant performance abound in terms of the various reforms he introduced and projects he embarked upon and completed," he said.
Dosunmu said the incumbent governor, Babajide Sanwo-Olu is a man of exceptional dynamism, a listener and good crisis manager.
"I must state that his inspiring personal style of leadership is equally deserving of my humble commendation. The steady and self-assured way he has been piloting the affairs of Lagos State cutting across every sector with characteristic skills and sobriety is commendable.
"His great exploits in the areas of infrastructure development, youth empowerment, education, health, direct foreign investment, transportation (rail and land transportation) among others are enormous," he said.
Dosunmu urged all members of the APC in Lagos State to see this current political realignment as a unique opportunity for greater mobilization, consolidation and breaking of new grounds in the build-up to the Governorship and State Assembly elections.
"A vote for Governor Babajide Sanwo-Olu is a vote for strong collaboration with the Federal Government of Nigeria under the able leadership of Asiwaju Bola Ahmed Tinubu. This will no doubt bring unprecedented development to Lagos State and enhance the quality of life of its resident. My teaming supporters and I will spare no effort to work for wider acceptability and electoral victory for the APC – our new party, in Lagos State come March 18, 2023," he said.
Copyright Ships & Ports Ltd. Permission to use quotations from this article is granted subject to appropriate credit given to www.shipsandports.com.ng as the source.