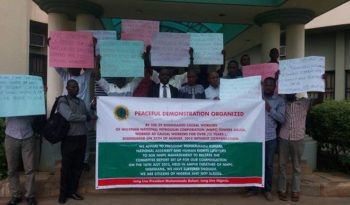 About 29 disengaged casual workers of the of the Nigerian National Petroleum Corporation (NNPC) on Thursday besieged the National Human Rights Commission (NHRC) Abuja office to protest the non-payment of their severance pay-off.
The aggrieved ex-workers said over N4 billion was owed them after working for 15 years at the corporation.
They arrived the NHRC bearing placards with inscriptions such as: "We demand N4bn severance pay from NNPC after 15 years of slavery in NNPC Towers, Abuja," and "Nigerians, NNPC has refused to release the committee report set up by their management to settle us since July 2015."
Some of those affected appealed to the Acting President, Prof. Yemi Osinbajo, to intervene and save them as they were dying without jobs.
One of them,  Okolo Barnabas said all effort to get their payments for over three years has been frustrated by the NNPC.
The Senior Special Adviser to the Executive Secretary of the NHRC, Lambert Opara, who received the aggrieved ex-workers assured them that the commission would expedite action on their case and ensure they get justice within seven days.
The workers said they were engaged as casual staff by NNPC in 2000 to arrange office ware and files brought in from the Lagos office to the Abuja NNPC Towers.
48 of them were recommended to be absorbed because of the critical menial services they were providing for the NNPC. They were being paid N2.3 million monthly and N27.8 million annually which translated to N48, 400 per personnel as at 2014.
However since 2014, their payments were stopped as they were not absorbed.
NNPC spokesman  Ndu Ughamadu was not immediately available for comment.