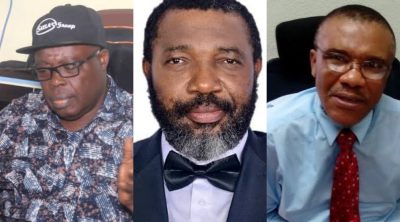 Former National President, Association of Nigerian Licensed Customs Agents (ANLCA), Prince Olayiwola Shittu; former National President, National Association of Government Approved Freight Forwarders (NAGAFF), Eugene Nweke and a don at the Lagos Business School, Dr. Frank Ojadi, on Thursday identified challenges facing freight forwarders in Nigeria.
The trio spoke at a virtual dialogue organised by SHIPS & PORTS, with the theme "COVID-19 and the Challenges Facing Nigerian Freight Forwarders".
Prince Shittu blamed the Council for the Regulation of Freight Forwarding in Nigeria (CRFFN) for failing to prioritise the training of freight forwarders, a development that he said contributed to why indigenous practitioners are losing their jobs to foreigners.
Shittu also kicked against the collection of the controversial professional operating fees (POF) by CRFFN, saying that rather than wait for POF collection, the council should look inwards by organising weekend trainings for agents using some of its accredited institutions.
He said, "Every Dick, Tom and Harry can carry their brief case and get registered with CRFFN and then you are a freight forwarder. Does that make him a professional? Foreigners are doing our job because they are encouraged by regulatory agencies of the government, so if we have Lebanese, Indians setting up companies and getting Customs licenses, it is because there is no protection for indigenous Customs brokers. A line has to be drawn on what job to be done.
"We don't need POF to do training. If the POF becomes a government collection, we still have to go through the budgetary allocation to make use of the POF. But for now, there is still budgetary allocation that is driving CRFFN. While I was in office, we were conducting training for members locally and international and there was no funding from CRFFN or from any other regulatory agencies except a few that helped us to meet up with our international tickets. The CRFFN already has institutions registered and accredited by them. What they need to do is give enough publicity. Even the CRFFN office in Apapa has enough space for people to do weekend training. It is not until I contribute POF before I can be trained.
"We need to look inwards. CRFFN can organise weekend training, which will be added as assessment for them to renew their license to operate and not waiting for POF. What is delaying POF is because it is not in the Act and they cannot take shortcut to put it there."
Former National President of NAGAFF, Eugene Nweke, while reiterating the need to induce professionalism in the freight forwarding practice.
He said, "For professionalism, there must be a minimum qualification standard for joining any profession and that is what we want to get right in the freight forwarding industry. The idea of learning on the job and transferring it is not taking us anywhere and essentially that is the reason why we should have a regulatory council or else the industry will continue just like every other day.
"It is integrity and accountability that drives the council so nobody can collect money and not account for it. I am of the opinion that the POF should be collected and used for training of freight forwarders."
Nweke also decried the lack of automation and absence of a national single window platform at the port. These developments, he said, had made it difficult for agents to observe physical distancing as a preventive measure to guide against the spread of COVID-19 during cargo clearance at the ports.
Speaking on why CRFFN has not lived up to its mandate of regulating the freight forwarding practice in Nigeria, Dr. Frank Ojadi of Lagos Business School, said, "From our study, we have established that the way CRFFN is being organised and the regulation that drives it and those that make up members of that body have practically captured the institution. If you make a direct comparison between it and other regulatory agencies, you will notice that those who they are supposed to regulate do not form part of that regulatory body. That is really what had rendered the CRFFN very ineffective all these years."