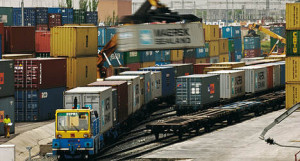 The Chief Executive of Nigerian Export Promotion Council (NEPC), Olusegun Awolowo, has called for the establishment of more export processing terminals in the country.
He said that the establishment of export processing terminals would make Nigerian goods competitive in the international market.
Awolowo made the observation in Lagos on Monday at a one-day Business Forum on Export Logistics organised by NEPC in collaboration with Accessport Nigeria Ltd.
The NEPC chief, who was represented by William Ezeago, Director, Product Development in NEPC, said that the council had resolved to encourage private investors in export and logistic services through Public-Private Partnership.
Awolowo said this was part of measures being put in place to encourage Nigerians to export their goods and services to the international market within the time frame required and without compromising their quality.
"This will impact positively on the efforts of the council at diversifying the economy and reducing the cost of doing business.
"It will also promote non-oil export trades which are in line with the Federal Government's programme of diversification of the economy and increasing Nigeria's ranking on Ease of Doing Business Index.
"This facility will encourage informal exporters to formalise their export businesses as well as assist in the collation of statistical figures for use by government and business concerns," he said.
Awolowo commended efforts of Accessport Nig. Ltd. in providing the facility which is domiciled at Lilypond Terminal, Ijora, and Lagos.
He said this would provide exporters the much-needed export infrastructure needed to execute transactions successfully and efficiently at reduced cost and time, thereby increasing their competitiveness in the international market.
The NEPC boss said this would also ensure compliance with the current directive of the government to complete all export transactions within 48 hours.
Awolowo said the forum was a veritable platform for sensitising the various export groups and regulatory agencies on the opportunities available for exporters to handle their business.
"From the receipt of the export good at the warehouse in the terminal, inspection and documentation procedures to stuffing of containers for final shipment, all will be handled in one location.
"Undoubtedly, this facility will provide a one-stop shop for export processing and logistic services," he said.
The Managing Director, Accessport,  Las Alli-Shobande, said statistics showed that over 2.3 million tonnes of non-oil products were exported annually, adding that the figures could only grow with the right logistics.
He said there was need to support the sector by providing appropriate platforms to enhance seamless logistic services for a sustainable economic growth.