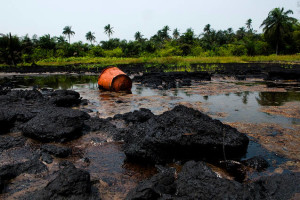 Over 1000 people have embarked on a peaceful protest to challenge the oil spill from ExxonMobil Oil Corporation facilities in Akwa Ibom State which has hit more than 10 communities situated on the Ibeno shoreline in Eket.
The protesters lamented that the oil spill was the sixth this year and was destroying their environment.
Although they recognise that the cause of the oil spill was due to the recent repairs of pipeline destroyed by the Niger Delta Avengers some months ago, they however expressed disappointment in the way the US oil major was treating the issue not minding the hardship caused by the spillage.
"Now the spill is impacting negatively on the environment in the local communities, affecting farming, fishing and drinking water," a local community leader said.
Daniel Akpan, head of Ikot Otio-Nana village, said the facilities have long been a problem for surrounding communities, despite repeated repair attempts.
"They repair and the pipelines break open again," he said.
ExxonMobil did not immediately respond to an e-mailed request for comment.
Spills have been a source of tension across the Niger Delta, which often erupts into violence. The oil rich region produces much of Nigeria's oil wealth, but people complain they get little or nothing from it.
The same complaint was what led the militants, most recently the Niger Delta Avengers, carrying out attacks on oil pipelines and facilities in a bid to secure a greater share of Nigeria's oil dollars and drive the government to the negotiating table.
Godwin Robert, a prominent citizen in the area expressed disappointment in the way ExxonMobil is handling the spillage.
"I am not surprised because the company is trying to fix Edoho pipelines destroyed by NDA. I expected this to happen because there is no how they will fix the pipeline without oil spill occurring," Robert said.
He disclosed that the oil spill was traced to ExxonMobil installations located at Okposo, Atia, Western end and Eastern end of Ibeno communities.
He called on the company as a matter of urgency to commence a thorough clean up.
"We expect them to promptly respond by calling the necessary authorities to do thorough investigation to ascertain the level of impact and damage to the community," he said.
He urged ExxonMobil to constitute a joint investigation team to hasten the clean-up exercise.