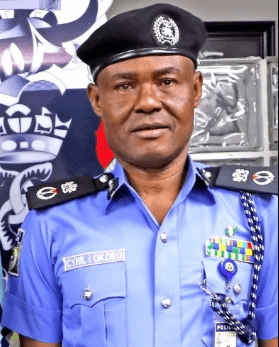 The Western Port Authority Police Command said it lost one officer, who was attacked by hoodlums during the violence that trailed the recent #EndSARS protest at the Tin Can Island Port.
Two rifles belonging to the command were also stolen by suspected hoodlums who attacked the headquarters of Nigerian Ports Authority (NPA) in Marina, Lagos.
Commissioner of Police, Western Port Authority Police Command, Cyril Okoro who disclosed this in a chat with SHIPS & PORTS said a delegation of the NPA management and the police force would soon visit the family of the late officer.
Okoro, who spoke for the first time since the burning of the NPA building, said officers have since returned to work. He said the command remains resolute and undeterred in the discharge of its responsibility despite the attack on its facility.
He said, "Immediately after the EndSARS protest, within 24 hours, the port became fully operational and the policemen were on duty. The morale of the officers might have been affected but it didn't bring them down. They resumed full operation less than 24 hours after the end of the EndSARS protest.
"One of our officers was injured during the protest and he later died in the hospital. Our morale never went too down. We were able to strike the officers up immediately after and they returned back to duty. It is part and parcel of what we signed for whether good or bad.
"We have been working and I think everything that happened during that time is now a matter of history. Everything has resumed as normal, the ports are functioning and the policemen are on their duty post doing their work.
"As regards our late colleague, the Force has definite ways of treating death while in service and apart from the official requirement; other things are being done to ameliorate the loss to the family.
"The NPA management plan a visit of the port management and the police to the family and other assistance will be rendered to the family to cushion the impact of the incident on them.
"The attack was from hoodlums who hijacked the protest but definitely lessons have been learned from that and it is assisting us in working out better infrastructure for the security aspect for the future."
Okoye said seven suspects arrested in connection with the attack on NPA headquarters are being interrogated and those found culpable would be charged to court.