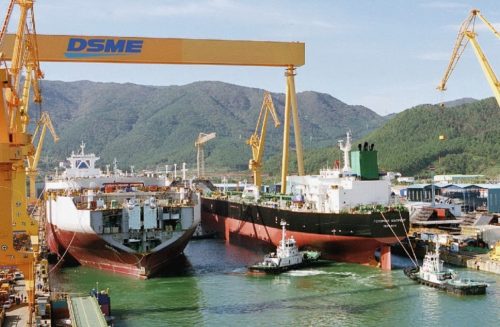 Workers of Daewoo Shipbuilding & Marine Engineering (DSME) on Tuesday agreed to proceed on strike in a bid to oppose a takeover by Hyundai Heavy Industries (HHI).
The date for the planned strike, supported by majority of DSME's 5,600 workers in a meeting on Tuesday February 19, is however yet to be determined. 
The merger of the South Korean shipbuilding majors, revealed by DSME's largest stakeholder, the state-backed Korea Development Bank (KDB), has raised fears of potential job cuts. KDB holds a 55.7 percent stake, worth of KRW2.16 trillion (USD1.94 billion), in DSME. 
Reports say a formal takeover agreement is to be signed in March this year with KDB transferring its DSME stocks to HHI and buying KRW1.5 trillion worth of HHI stocks that would be issued later. The bank, according to reports, will also provide KRW1 trillion in financial help to DSME.
Should the merger go through, it will create a shipbuilding giant with a combined backlog order of close to 17 million compensated gross tons.