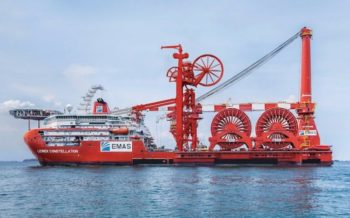 Embattled Ezra Holdings has filed for Chapter 11 bankruptcy in the US on Saturday, together with its two wholly-owned EMAS IT Solutions and Ezra Marine Services, in the hope of facilitating a financial restructuring.
Offshore and subsea services group Ezra has been hit by a series of claims and statutory demands over the past weeks, after its 40%-owned joint venture EMAS Chiyoda Subsea (ECS) filed for Chapter 11 bankruptcy on 28 February.
"The Ezra Chapter 11 filing is intended to optimise the scope and extent of the restructuring options available and to protect the interests of all stakeholders of the company (including its creditors and shareholders) from hostile actions that could harm the company and its stakeholders by diminishing the group's value," Ezra stated.
The moratorium afforded under the Ezra Chapter 11 filing stays claims against the group's entities and enforcement actions against their assets.
Ezra pointed out that holders of a SGD150m 4.875% notes due 2018 may seek to assert rights in the Chapter 11 case.
"The company will be reaching out to HSBC Institutional Trust Services (Singapore) Limited as trustee for the noteholders to begin this process with the noteholders as soon as practicable. The company intends to include the SIAS (Securities Investors Association Singapore) as it engages with the noteholders," Singapore-listed Ezra said.
The Singapore Exchange (SGX) also announced that it has taken steps to aid holders of the Ezra notes by requiring Ezra to convene a meeting with noteholders.
The woes of Ezra arose mainly from its exposure of approximately $900m as a guarantor to ECS. While ECS had filed for bankruptcy, Ezra said earlier that the filing "unfortunately" does not deal with ECS' charter hire liabilities, where a substantial amount of these liabilities of around $400m is guaranteed by Ezra.
Most recently on 17 March, Ezra announced it has faced a $4.45m claim from Serimax North America owed by Ezra as guarantor to a Promissory Note between Serimax and ECS.
On 12 March, Ezra was hit by a hefty claim of $194.5m by China's ICBC Financial Leasing relating to a sale and leaseback arrangement for a pipe-lay vessel between the Chinese bank and EMAS Offshore Limited (EOL), subsidiary of Ezra. EOL, also lited on SGX, has suspended trading since 6 March.
VT Halter Marine (VTH) and Forland Subsea also issued statutory demands on 9 March and 7 February, respectively, for claims totalling $6.31m against Ezra acting as guarantor for ECS.
Ezra has another subsidiary listed on SGX, Triyards Holdings, which has requested for trading halt on 20 March.
The severe downturn of the global offshore oil and gas sector has tanked activities and eroded earnings, with Ezra being the latest to fall victim to the market's very difficult operating conditions. Swiber, another Singapore-listed offshore services firm, has been placed under judicial management since August 2016.
Offshore vessels owner Swissco filed to be placed under judicial management in November 2016 and a hearing has been fixed on 24 March this year.
Copyright Ships & Ports Ltd. Permission to use quotations from this article is granted subject to appropriate credit given to www.shipsandports.com.ng as the source.