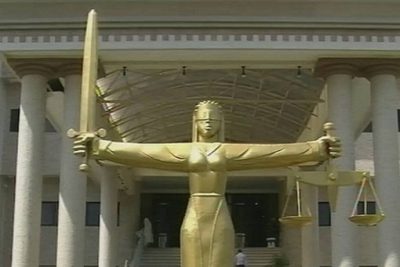 The Economic and Financial Crimes Commission (EFCC) has arraigned an
alleged fake customs clearing agent, Kayode Kikiowo, before the Lagos State Special Offences Court in Ikeja for defrauding his customer of N6.7 million.
Kikiowo was charged on five counts bordering on obtaining money by false pretences, forgery and use of false documents.
He pleaded not guilty to the charges.
The charges read in part, "That you, Kayode Kikiowo, sometime in 2017
in Lagos within the Lagos Judicial Division, with intent to defraud, obtained the sum of N6,740,000 from one Izegaegbe Ehikhueme by falsely representing to him that you are a registered customs clearing agent
and that the sum was for the clearing of his 40-foot container carrying vehicles, which pretence you knew to be false."
In view of the defendant plea, the prosecution counsel, Franklin Ofoma, urged the court to allow the witnesses, who were in court, to give their evidence.
The first prosecution witness, Mohammed Thuwang, an operative of the
EFCC, told the court that the defendant confessed to having collected the money from the victim in a statement written by his lawyer, Babalola Garuba, on his authority at the anti-graft agency's office.
Another prosecution witness, Adedayo Adebowale, a staff member of the
SIFAX Group of Companies narrated to the court how the EFCC investigators came to his office to verify some documents, which he said were discovered to be fake.
The prosecution presented as evidence a copy of the letter to the SIFAX Group of Companies and Cargo Handling Service Limited as well as their responses, which confirmed the documents to be forged and they were subsequently admitted as exhibits.
Adebowale, under cross-examination by the defence counsel, Titilola Lanpejo, confirmed to the court that the container had not yet been
cleared at the Customs, adding that Kikiowo collected the sum of N6.7m from the victim.