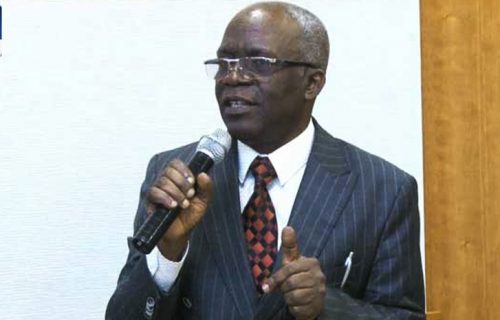 Human rights activist and lawyer, Femi Falana (SAN), has taken a swipe at the Federal Government over the temporary closure of some land borders in the country. 
He described the action as primitive and a contravention of citizens' constitutional rights to free movement.
The Office of the National Security Adviser (ONSA) on Wednesday commenced a joint security exercise codenamed "EX-SWIFT RESPONSE" across the south, southwest, north-central and northwest borders aimed at strengthening interagency collaboration towards tackling trans-border security challenges.
Comprised of operatives of the Nigerian Customs Service (NCS), Nigerian Immigration Service (NIS), Armed Forces of Nigeria (AFN), Nigeria Police Force (NPF) and other security/intelligence agencies, the exercise involved movement of personnel, vehicles and equipment within the affected parts of the country to ensure peace and security.
Although a statement by spokesman for the NCS Joseph Attah had appealed for calm and continuation of lawful duties from the public; commuters to and fro Nigerian border with Benin Republic have decried their being denied entry/exit for several hours.
Condemning the development, Falana said curtailing movements violated Section 41 of the Constitution and Article 12 of the African Charter on Human and Peoples Rights.
"It is also a breach of article 3 of Protocol on Movement of Persons and Goods. Indeed, border closure is a repudiation of the letter and spirit of the African Continental Free Trade Agreement, which was recently signed by Nigeria.
"While the policy of the federal government to fight smuggling cannot be questioned, it should not be implemented in a manner that the businesses of innocent traders and travellers are disrupted or destroyed. Since smugglers operate between 1 am and 4am daily, they are not adversely affected by the temporary closure of borders.
"The point that I am labouring to make is that since the temporary closure of borders cannot effectively curb smuggling, the primitive policy should be reopened forthwith. Instead of closing borders the federal government should put its house in order.
"To the best of my knowledge, all smugglers are known by the operatives of the Customs, Police and State Security Service who serve in the local governments located in the border areas.
"Instead of sentencing all those who travel by road to collective punishment and inconvenience, the federal government has a duty to acquire the necessary technology and fish out the smugglers and their collaborators in the public service and prosecute them without any delay," he said.
Copyright Ships & Ports Ltd. Permission to use quotations from this article is granted subject to appropriate credit given to www.shipsandports.com.ng as the source.