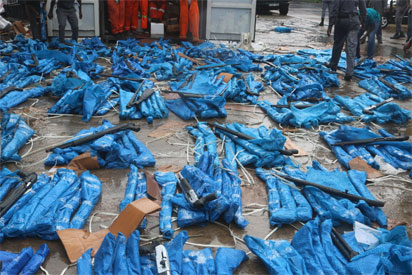 A Federal High Court sitting in Lagos has fixed May 5, 2019 for the physical inspection of 1,570 pump action rifles illegally imported into the country last year.
Justice Saliu Saidu fixed the date after listening to the testimony of the fourth prosecution witness in the trial.
Three businessmen namely Ifeuwa Moses Christ, Ayogu Great James, Emeka Umeh Festus, who is still at large and a limited liability company, Great James Oil and Gas Limited, are accused of illegally importing the dangerous weapons into Nigeria.
A prosecution witness, Mohammed Hassan, said men of the Nigeria Customs Service at Tin Can Island Port delivered to him two containers containing for safe keeping.
Hassan, an Assistant Comptroller of Customs,who led in evidence by Julius Ajakaiye, a Deputy Director in the Federal Ministry of Justice, said on October 20, 2017, two containers brought by men of the NCS Tin Can Island Port Command, Lagos and handed over to him for save keep at the Custom Bonded Warehouse, Federal Operation, Ikeja, Lagos.
The witness, who said he was in charge of the Customs Warehouse, Ikeja, Lagos said on 100 percent examination of the first container, it contains among others, 1,100 pump action rifles concealed with sanitary wares like washing hand basins, while the second container contained 470 pump action rifles concealed with plumbing materials.
After tendering the handover note, Ajakaiye, made an application to move the court to the locus sincro (scene of events) for the court to inspect the containers and the items physically.
Consequently Justice Saidu adjourned the matter till May 5, to enable the court move to the locus sincro.