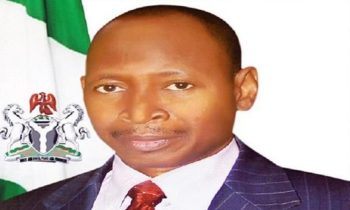 Since the commencement of the Treasury Single Account (TSA) in September 2015, over 20,000 accounts with Deposit Money Banks belonging to Ministries, Departments and Agencies have been closed with a total sum of N5.24tn moved into the TSA.
The Accountant General of the Federation, Ali Ahmed Idris, gave the figures on Tuesday in Abuja, while speaking at the opening session of a two day retreat on TSA.
The event which was attended by Vice President Yemi Osinbajo, the Minister of Finance, Kemi Adeosun, the Secretary to the Government of the Federation, Babachir Lawal among other top government officials had as its theme, "One year anniversary of Treasury Single Account: Benefits, challenges and way forward."
The TSA is a platform which was used by the government to unify all its accounts by ensuring that all monies belonging to the federal government are kept with the Central Bank of Nigeria.
The initiative which took off fully in September 2015 had been complied with by over 900 agencies of government.
Since the commencement of the TSA, there had been series of job losses in banks owing to decline in deposits.
But the Accountant-General while speaking at the event described the implementation of the TSA as one of the success stories in the management of public finances.
For instance, he explained that through the policy, the government has been able to block leakages and abuse which had characterised the public sector before its commencement in October 2015.
Apart from blocking leakages, Idris said the TSA initiative has assisted the government to overcome the burden of indiscriminate borrowings by MDAs thus saving government a lot of bank charges associated with these borrowings.
For instance, he noted that prior to the full commencement of the TSA, the government was incurring about N4.7bn monthly on bank charges, adding that this has been eliminated through the TSA initiative.
He said, "The TSA journey started way back in April 2012. That journey could not see the light of the day as no significant gains were recorded largely due to the lack of political will.
"However, the issuance of TSA circular in August, 2015, coupled with the political will and enforcement, enabled us to achieve considerable progress on the TSA implementation.
"As at the 10th of February,2017, the total inflow of funds through the mop-up and direct debits by the Central Bank of Nigeria amounted to N5.24trn.
"We have successfully eliminated multiple banking arrangements, resulting into consolidation of over 20,000 bank accounts, which were spread over Deposit Money Banks across the country.
"This has further brought about transparency and effective tracking of government revenues."