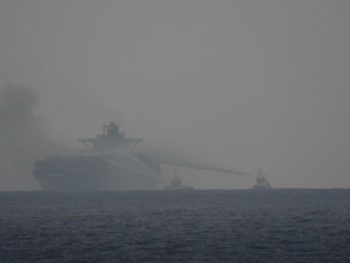 A 295-meter APL containership suffered "major blaze" on Sunday off the east coast of South Africa near Port Elizabeth.
The South African Maritime Safety Authority (SAMSA) said it was alerted Sunday at approximately 5:49 p.m. of a fire onboard the Liberian-flagged APL Austria, 30 nautical miles southwest of Cape St Francis, or approximately 50 to 70 kilometers west of the city of Port Elizabeth.
The fire is believed to have broken out in the ship's No.4 cargo hold.
"The vessel was instructed to proceed to Algoa Bay anchorage and she arrived at the anchorage area at 02h00 this morning, Monday 13 February 2017. There are several containers containing hazardous cargo on deck above No.4 cargo hold, but fortunately none of them were on fire," said Captain Daron Burgess, a Principal Officer for SAMSA's Southern region.

The vessel is currently docked at Ngqura to the east of Port Elizabeth. Some video posted online showed smoke still billowing from the vessel as firefighting operations continued after the ship had docked on Monday.
According to Capt Burgess, officials at the port of Ngqurha, Transnet National Ports Authority (TNPA) and SAMSA boarded the vessel early Monday morning for an assessment of its conditions while firefighters on three TNPA harbor tugs worked to cool the vessel.
"Lots of black smoke was emanating from the vessel," said Captain Burgess. "The weather conditions have been favorable since the incident occurred, with a light South-Easterly wind. The vessel heaved anchor at about O5hOO this morning and was instructed to proceed further out in the bay to clear the other vessels at the anchorage area. The tugs continued with boundary cooling during the morning hours; during the night the vessel used their on board fire extinguishing media.
"After the fire was relatively under control, arrangements were made to take the vessel into the Port of Ngqura with the Metro Fire Fighters on standby and to deal with the situation upon arrival alongside. The vessel entered the Port of Ngqura at approximately 10h00 this morning. It is not yet clear at this stage what caused the fire. An investigation will be undertaken once the fire is extinguished to try and establish the cause of the fire," reported Captain Burgess.
Copyright Ships & Ports Ltd. Permission to use quotations from this article is granted subject to appropriate credit given to www.shipsandports.com.ng as the source.