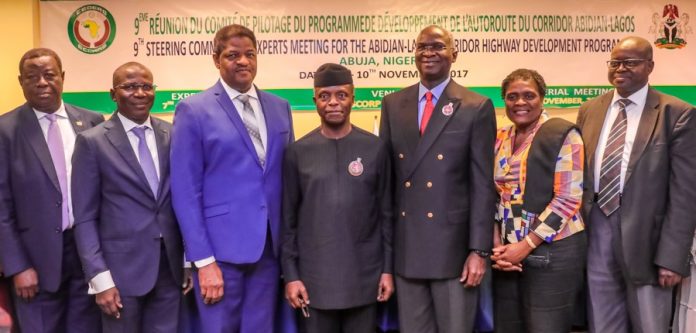 Vice President Yemi Osinbajo has said the Federal Government is committed to the realisation of the Abidjan-Lagos corridor highway development and its completion on schedule.
Osinbajo disclosed this in his keynote address at the 9th Steering Committee Meeting for the Abidjan-Lagos Corridor Highway development 
on Friday
 in Abuja.
He said that the Federal Government was excited over the opportunities provided by the project to small businesses, adding that when completed, it would constitute the primary driver of economies of the sub-region.
According to the vice president, the development of the corridor will hopefully set a stage for the formalization of the vast informal economies that exist in and around countries of the region.
He said that the steering committee meeting was a testimony to the strong relationship existing among ECOWAS countries.
"We may live in different countries, speak different languages, spend different currencies but we share a common history, goals and aspirations.
"The development of the Abidjan-Lagos corridor is one of the flagship projects of the ECOWAS and we believe it will promote regional integration, trade, tourism and other forms of economic activities.
"There is no doubt that connecting West Africa by means of an efficient road network is one of the easiest and most direct ways of boosting local and international economies."
The vice president said the development of the corridor would also go a long way in resolving hindrances to cross border trading in West Africa.
He commended the commitment of development partners including the African Development Bank, Japan International Corporation Agency (JICA) and other financial institutions to the realization of the project.
Osinbajo urged members of the committee to also deliberate on ways to promote unity, peace, good neighbourliness, security and rule of law within ECOWAS and the African Union.
The Minister of Power, Works and Housing, Babatunde Fashola, had earlier commended the supportive role of the ECOWAS Commission and the African Development Bank toward the delivering the project.
Fashola, who is also the Chairman of the Steering Committee, said the project would promote cross border tade, social and cultural integration as well as enhance prosperity in the sub-region.
He said the committee was moving toward the completion of the preparatory work, adding that Nigeria had ratified the treaty and signed the financing agreement.
The countries involved in the Abidjan-Lagos corridor highway development are Nigeria, Ghana, Togo, Benin and Cote D'Ivoire.
Copyright Ships & Ports Ltd. Permission to use quotations from this article is granted subject to appropriate credit given to www.shipsandports.com.ng as the source.