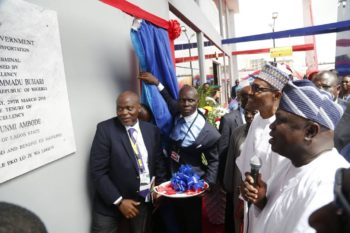 President Muhammadu Buhari on Thursday said plans by his government to develop Nigeria's railway infrastructure remains unshaken.
Buhari stated this while commissioning the Ikeja Bus Terminal in Lagos, even as he lauded the giant strides of the Lagos State Governor, Akinwunmi Ambode, on infrastructure development in the state.
He said, "We are committed to strictly adhering to the rail reforms because it will lead to job creation, improve security and return our dear country to its position of respectability among the comity of nations in the world."
The President said the Ikeja Bus Terminal, which is projected to change the narrative of transportation in the state will boost job creation, enhance commercial activities and improve the condition of living of Lagosians.
His remarks came, just as the Ambode said the Ikeja Bus Terminal, which is a product of the transportation summit organised by his government in November 2015, is one of the flagship projects meant to revamp transportation and ensure that the people now use public transportation.
He said under this first phase, 13 new bus terminals are simultaneously ongoing at Oshodi, Yaba, Ojota, Agege, Maryland, and TBS, with 5,000 brand new buses to be injected into the state's economy in the next three years with 820 high capacity buses to be injected by September.
Ambode said construction is ongoing on at 300 new bus stops across the state to further complement efforts to bequeath a working, more friendly, safe and convenient transportation to the people of the state.
He thanked President Buhari for the import waiver on the first phase of the buses to be imported for the project.
He disclosed plans by the government to begin assembling the buses within the next 20 months, even as he disclosed of plans to promote non-motorized modes of transportation such as walking by ensuring the creation of walkways on all road projects ongoing in the state.
He noted that the government will soon deliver the blue line light rail in its determination to deliver a functional and sustainable integrated system to enhance commerce and condition of living of the people.