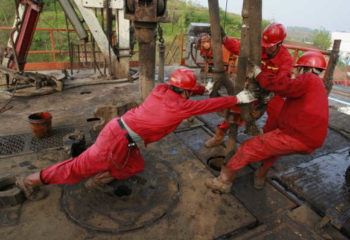 General Manager, Downstream Gas, Chevron Nigeria/Mid-Africa, James Okereke, has urged the Federal Government to unlock the oil and gas industry's production potential to improve Nigeria's competitive position.
Okereke made the appeal on Tuesday in Lagos during a presentation on "Overview of Oil and Gas Industry in Nigeria'' to students of Advanced Writing and Reporting Skills (AWAReS) at Pan-Atlantic University.
"For Nigeria to compete successfully, it needs to improve its competitive position and remove obstacles to investment and development.
"To keep oil production stable, new developments are needed to offset natural decline of existing assets.
"Nigeria is competing internationally for shrinking resources; International Oil Companies have cut production by 10 to 20 per cent.
"Crude oil prices have dropped significantly by 55 per cent since 2014. To compete favourably in the international market, we should make our business environment to attract investors."
Okereke said that oil and gas sector was important to the nation's economy, adding that increasing investment and developing the country's gas reserves would drive economic growth and attract investors.
"Gas production has multiplier effects.
"Every one dollar invested in gas results in about three dollars increase in Gross Domestic Product (GDP).
"You cannot keep taking out of a sector without putting adequate investment back; there cannot be development," he said.
According to him, honouring contract sanctity, simplifying approval processes for licences, solving Joint Ventures funding challenges and ensuring the security of lives and property will enhance the country's competitiveness.