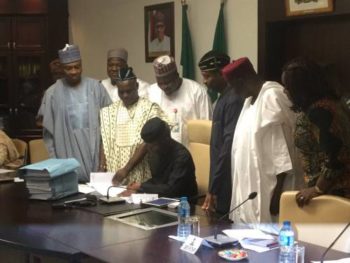 The acting President, Yemi Osinbajo, on Monday signed the 2017 Appropriation Bill into law. Osinbajo appended his signature on the document at about 4:41pm inside the Presidential Villa, Abuja.
The brief event was witnessed by principal officers of the National Assembly, presidential aides and other top government officials.
The record 7.44 trillion naira budget passed by the National Assembly on May 11 was bigger than the 7.298 trillion naira draft spending plan submitted by Buhari in December.
Last year's budget, passed in May 2016, was delayed for months due to disagreements between lawmakers and the presidency over spending plans that cut the supply of government money and deepened the economic crisis.