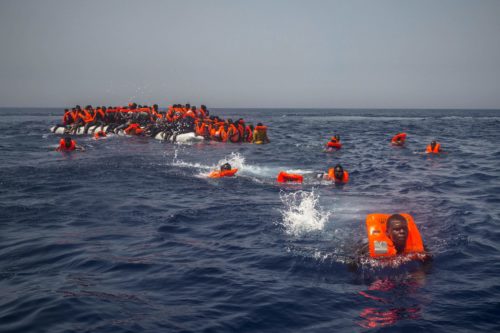 Spanish coast guard said on Thursday that five migrants drowned and 193 were rescued in the western Mediterranean sea off the Spanish coast after six rafts sank.
Spain has become the main entry point for migrants fleeing Africa to seek a better life in Europe, overtaking Italy and Greece, as Italy's new populist government refuses to admit rescue boats.
Dozens of migrants dressed in hooded white forensic suits disembarked from a rescue vessel on Thursday in the port of Motril in the southern region of Andalusia, video footage showed.
Survivors from one of the rafts rescued said four other people had been lost at sea earlier in the journey, a spokeswoman for the coastguard said but could not confirm the higher death toll.
Migrants found dead or missing in Spanish waters have already surpassed the 153 reported for last year, Spanish coastguard figures show. By the end of August this year, 155 migrants had been reported dead or missing without counting the latest fatalities.
A total of 33,195 illegal migrants had entered Spain as at the end of August, Interior Ministry data shows. This is more than double the number for the same period last year.
Agency Report