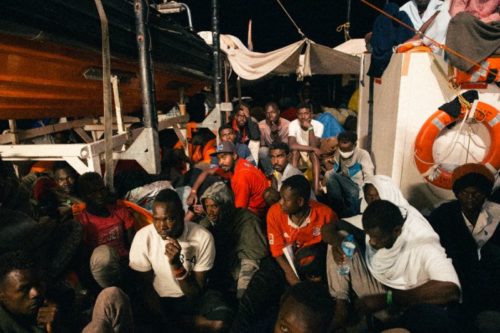 Libyan authorities on Tuesday, forcibly disembarked at least 79 migrants who had refused to leave a cargo ship that rescued them before docking in a port west of Tripoli, rights groups and a coast guard commander said.
The Panama-flagged "Nivin" vehicles carrier, rescued them and other migrants off the Libyan coast 10 days ago as their boat began sinking and brought them to Misrata.
Once there, 14 disembarked willingly but, in the first documented case of its kind, the other 92 refused to leave.
"A joint force raided the cargo ship and used rubber bullets and tear gas to force (them off the ship)," the commander of the central region coastguards, Tawfiq Esskair, told Reuters by phone, putting the number at more than 90.
Some had been injured during the disembarkation but were now "in good condition" after treatment in hospital, and all had been taken to a detention center in the city, he said.
The operation had been carried out under the auspices of Libya's attorney general, he added.
The United Nations and Human Rights Watch (HRW) put the number of disembarked migrants at 79.
The U.N. said in a statement "the humanitarian community is saddened by the turn of events".
Using stronger words, HRW called for an investigation into whether "unlawful force" had been used.
"This is the worst possible conclusion to the desperate plea of the people on board the Nivin to avoid inhuman detention in Libya," Acting Deputy Director, Europe and Central Asia at Human Rights Watch, Judith Sunderland, said in a statement.
Diplomats from some migrants' countries of origin such as Sudan and Somalia had tried to negotiate with the migrants to leave the ship, which had been transporting cars.
Libya's western coast has been the main departure point for migrants fleeing wars and poverty and hoping for new lives in Europe. But since last year, heavy pressure from Italy – which had been bearing the brunt of arrivals – has resulted in the disruption of coastal smuggling networks and the withdrawal of charity rescue ships.