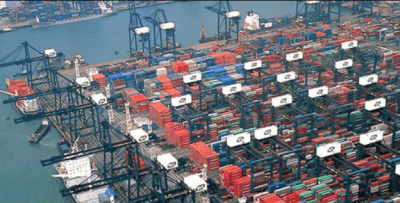 Contrary to the position of its General Manager, the management of Five Star Logistics Terminal said the Nigerian Ports Authority (NPA) has risen up to the task of addressing the problem of a collapsed cable ditch along the quay apron of berth 9 and 10 at its terminal. 
A statement issued by Rigo Nazzari, General Manager of Comet Group on behalf of the Managing Director of Five Star Logisitcs reads: "The attention of our company's management has been drawn to an article that appeared in your reputable magazine, Ships & Ports, of yesterday the 13th April 2020. 
"The publication attributes our General Manager, Wolfgang Schneider, as having alleged that the NPA has abandoned the collapsed cable ditch in our terminal, and not taking any action despite our reporting same to them. Mr. Schneider was said to have made these statements during the visit to our terminal by the NSC. 
"The statement as attributed to our manager does not in any way reflect the views of the upper management of Five Star Logistics Limited. On the contrary, our management recognises and appreciates the fact that the Nigerian Ports Authority is very mindful of the state of the quay wall and quay apron, and have entertained various discussions with our company in finding a remedy. 
"Indeed, it is our understanding that the authorities of the NPA are currently looking at possible ways to tackle this problem, and have appointed a company to determine the extent of necessary intervention."