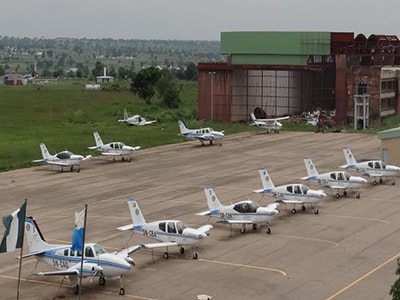 The Rector, Nigerian College of Aviation Technology (NCAT), Capt. Mohammed Abdulsalam, on Wednesday, said the International Civil Aviation Organisation (ICAO) Regional Training Centre of Excellence (RTCE) status of the college has the increased enrolment of foreign students at the college.
Abdulsalam who stated this at a briefing in Zaria, Kaduna State on Wednesday, noted that NCAT currently has students from Cameroun and Gambia who are doing training.
He said the RTCE status will afford NCAT to develop courses in all ICAO Annexes.
"There are very few RTCEs in the world. It takes a lot of effort and process before any institution is recognised as regional training centre of excellence.
"And when you have this status, it affords you the opportunity to develop courses in all the ICAO Annexes. That is the advantage.
"We can also import courses from any part of the world that are ICAO approved and conduct them here."
Abdulsalam further said the aviation college plans to increase its fleet of training aircraft to 14 this year.