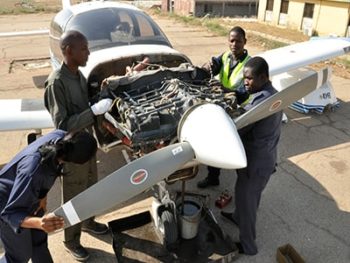 The Senate Committee on Aviation says the Nigerian College of Aviation Technology (NCAT), Zaria should begin overhauling plane engines to save owners the cost of doing it abroad.
The Vice Chairman of the committee, Bala Ibn Na-Allah, speaking during an oversight visit, said 53 years after the college was established, it ought to have been competing with world-best aviation universities like the Embrilidle in the United States.
"If this college has been thinking futuristic, there is nothing virtually that is happening in Embrilidle in US, which is one of the famous aviation universities in the world, that cannot happen here. There is no reason why the engineering department of this college at this stage of aviation development cannot overhaul the licomine engine.
"Aviation industry is dynamic; this is what we mean by thinking futuristic. The money we are wasting in taking these machines out for maintenance, we should have the personnel to do that here. If we have developed the personnel to do it here and have the certification, that money would have been a substantial saving to the country," Na-Allah said.
He assured the management of the college of the legislature's resolve to tackle their major challenges for the institution to become great like any aviation college in the world.
The new Rector of NCAT, Captain Abdussalam Mohammed, said his mission was to make the college the best in Africa, promising to complete all abandoned project being NCAT his alma mater.