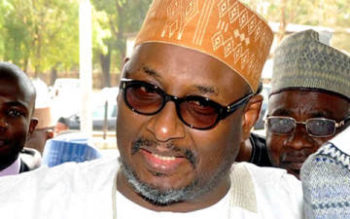 Former Chairman of National People's Democratic Party (PDP), Ahmadu Adamu Mu'azu has 'disowned' the house where Economic and Financial Crime Commission (EFCC) officers yesterday discovered more than $50 million hidden behind false walls in a swanky apartment tower in the upscale Ikoyi area of Lagos.
Muzak however failed to explain why the construction firm that built the house listed his name as a client.
Etco Nigeria Limited, a construction firm partly owned by an Israeli company, Electral Limited, prides itself as having built several residential and corporate complexes in Abuja, Port Harcourt, and Lagos including the property at No 16 Osborne Towers, Ikoyi, Lagos, where EFCC recovered over $50 million cash stashed away in fire-resistant cabinets behind a false wall on Wednesday afternoon.
The company on their website listed  Mu'azu as owner of the house.
Mu'azu was governor of Bauchi between 1999 and 2007. A graduate of Ahmadu Bello University, he received Bachelor of Science degree in Quantity Surveying and masters' degree in Construction Management. He served as property manager of the Bauchi State Investment and Property Development Company. He ran for the senate seat in the 2007 but was defeated, but was later elected as chairman of his party, the PDP in 2014 before fleeing Nigeria in 2015 after the party's candidate, Goodluck Jonathan was defeated in a Presidential Election that brought the opposition All Progressives Congress party to power.
Muaza had previously been declared wanted by the EFCC for engaging in massive corruption. He is believed to be living between the Uk and Malaysia aided by a luxurious private jet he purchased after 2015 election in Nigeria.