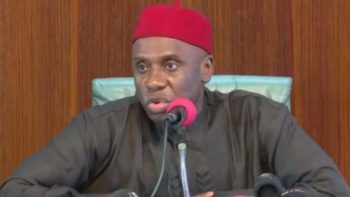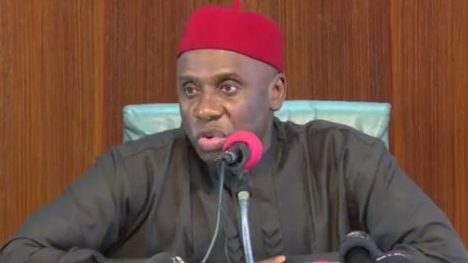 The Minister of Transportation, Rotimi Amaechi, has disclosed that his pursuit for change made him to leave his former party, the Peoples Democratic Party (PDP), to join the All Progressives Congress (APC).
He made the disclosure in an interview with newsmen at the in Lagos last Saturday.
Amaechi said he would have done otherwise by staying in PDP to fight for the change, instead, he said he crossed over to APC because of his belief in President Muhammadu Buhari.
"I moved from PDP to APC because I was tired of what was happening in the party, I had the option to stay because of my position as the Chairman of the Governors then.
"I could use my position to fight them (PDP) and get what I wanted because I believed Nigeria was not going in the right direction by then.
"My attention and belief shifted to Buhari which was the viable alternative, I believed in the change mantra because it was the only way to improve on what is on ground.
"He has not disappointed because the economy is now back on track and is growing. This is evident in the current prices of food items because it's getting lower,'' he said.
The Minister said prices of food would further crash because of the efforts of the government at making the country self-sufficient in food production.
"With the change going on, the price will further crash because before this government came in, the price were soaring because we were importing food items, things we can grow here.
"Now the policy of government is working which banned the importation of rice, the price is now about N16,000, but before now, we are importing about N3 billion worth of rice.
"Before now too, we were importing another N3 billion worth of poultry products, we are importing tomatoes but with the ban, we are now concentrating on our local production.
"Many states in the northern part of the country are now growing rice in large quantities though by right, the South-South geo-political zone should be doing that because they are the ones in the swampy area,'' he said.
Amaechi lamented that the wastage in the PDP era was alarming, adding that the depletion of the excess crude account was supposed not have been.
"When Obasanjo was leaving, he left about $65 billion in the Excess Crude Account, but this money was frittered away and we wonder where the money is.
"As at then, the price of crude oil during the President Goodluck Jonathan's administration hovered around $140 with this, they did not leave anything for the incoming government.
"With that kind of money, we should be thinking of connecting Nigeria through rail system. The rail between Ibadan to Kano would have been completed.
"Also the rail gauge between Port Harcourt to Maiduguri and Lagos to Calabar, but all the excess crude money was frittered away, we need to ask questions,'' he said.