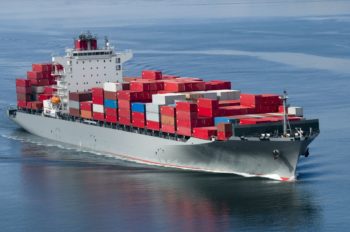 A demand growth recovery in the Asia-West Africa container shipping trade inspired two new fortnightly services, but freight rates have responded poorly, shipping consultancy Drewry has said. 
Carriers have reacted to the upturn in demand by introducing two fortnightly services. The first, the joint WAX2/FEW5 from Maersk Line and CMA CGM was resurrected after being suspended in February when it was a weekly operation. The WAX2/FEW5 brings back six 4,200 TEU units to the trade, instead of ten units of 4,700 TEU it featured previously, on a rotation of Nansha, Singapore, Tin Can, Apapa, Cotonou, Singapore and back to Nansha.
The second new service comes from Cosco and Gold Star Line in the form of the WAX5/FA3 loop. It will use the same number and size ships as the WAX2/FEW5 and will serve Ningbo, Nansha, Hong Kong, Singapore, Port Kelang, Durban, Tin Can, Tema, and Ningbo.
The net impact from these two new operations is that the total number of available southbound Asia to West Africa slots will be approximately 5% greater in October than in the same month one year ago, according to Drewry estimates.
"The early indications suggest that these new services have had a destabilising effect on spot rates, which had risen steadily alongside improving ship utilisation in the first half of the year," the shipping consultancy said. The average Asia to West Africa freight rates hit a 26-month high of USD 2,900 per 40ft container in July, before losing about USD 700 of their value in August.
"To avoid further spot rate collapses lines must be careful not to overload this trade with too much capacity as it continues its fragile recovery," Drewry concluded.