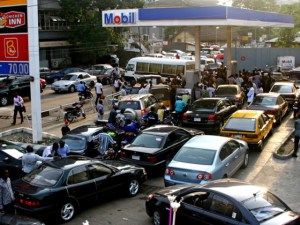 The Lagos Chamber of Commerce and Industry (LCCI), has called on the Federal Government to urgently liberalise the downstream petroleum sector to end the recurring fuel scarcity in the country.
President of the Chamber, Babatunde Ruwase, made the call on Wednesday in Lagos during a media briefing on the State of the Nation.
He said that concentration of petroleum products supply in the Nigerian National Petroleum Corporation (NNPC) remained a concern for private sector investors.
"The arrangement is an inherent entrenchment of state monopoly in the NNPC to the detriment of private investors.
"The midstream and downstream petroleum sector currently suffers from regulatory regime which is negatively impacting growth, investment and job creation in the sector.
"The current model of managing the downstream petroleum sector is not sustainable," Ruwase said.
He further said that it was at variance with government's vision to diversify the economy and create jobs as it perpetuates the phenomenon of rent economy which was detrimental to competition.
According to the LCCI boss, liberalising the downstream sector would create unfettered private sector participation and investment, subject to appropriate regulatory framework.
Ruwase said that the citizens were the ultimate beneficiaries of a competitive market environment, adding that there should be a level playing field for all operators, including the NNPC.
"The role of the NNPC needs to be clearly defined. It should not be operator and still have regulatory powers.
"The roles of the DPR and PPPRA need to be better defined. There are instances of overlapping and duplication of activities and responsibilities. This poses problem for investors in the sector," he said.
Ruwase said that the refineries should be operated as commercial business entities, advising that the NLNG model which allows for private sector management should be adopted for the refineries.
He said that adopting the model would improve efficiency and reduce the burden of refineries on the nation's treasury.
Ruwase urged the government to concession the oil pipelines for efficient management and reducing haulage of fuel by road. He stressed that the speedy passage of the Petroleum Industry Bill (PIB) would herald the much needed reforms in the oil and gas sector.