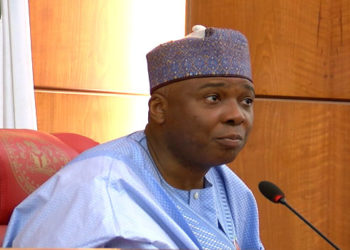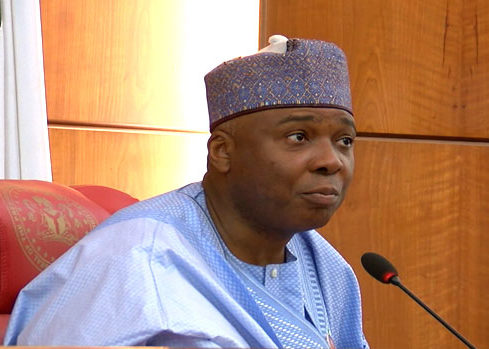 By Omotilewa Quadri 
Senate President Bukola Saraki has reacted to an ongoing investigation into "discrepancies" in fuel subsidy, saying its reintroduction is fraudulent.
Saraki made this known in a statement on Wednesday.
According to him, ongoing debates in the senate were aimed at enforcing reforms in the oil and gas sector, including bringing an end to the lingering fuel scarcity.
"Today, the senate debated the interim report of the senate committee on downstream petroleum on the fuel scarcity crisis in the country," the statement read.
"This interim report stirred up a debate on the floor about the ongoing scarcity, the subsidy regime and ways to make the oil and gas sector more efficient."
Commenting on some of the reforms, he said the senate committee would look into issues bordering on ending fuel scarcity and uncovering "fuel subsidy fraud".
"I spent a lot of time on this fuel subsidy issue during the seventh senate (2011 to 2015). It was my motion that brought this topic to the national discourse — hence, it is something that I know a lot about," the statement read.
"The first (issue) is, even as we speak now, there are still queues. The issue of the ongoing scarcity is one problem that the committee needs to go back to look into so that Nigerians can be reassured that this will not reoccur.
"The second problem is that the subsidy is important, however, based on the figures that have been presented, it is clear that there is a bigger fraud that is being perpetrated. This is because the amount of PMS (premium motor spirit) that is allegedly coming into Nigeria cannot be consumed by Nigerians. We consume about 27 million litres a day, while it has been alleged that 40 million litres a day of PMS is being brought in. There is a discrepancy somewhere.
"At the end of the day, it is Nigerians that are paying for this subsidy fraud because it is not transparent, and it is only being run by one MDA (ministries, departments and agencies).
"The third problem has to do with the principle of MDAs incurring expenditures without the necessary approval by the legislature.
Saraki said sub-committees would be assigned to look into the aforementioned issues for a full scope resolution.  
Copyright Ships & Ports Ltd. Permission to use quotations from this article is granted subject to appropriate credit given to www.shipsandports.com.ng as the source.