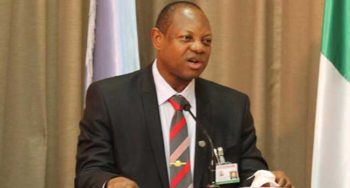 By Patience Danjuma 
The Federal government says it is desirous to wind down its Presidential Amnesty Programme in the Niger Delta region. 
Special Adviser to the President on Niger Delta and Coordinator Presidential Amnesty Programme, Brigadier General Paul Boroh (rtd) revealed this in Abuja on Wednesday, after a meeting with stakeholders to analyse the success of the programme.
It will be recalled that the programme was established in 2009 by the late President Umaru Musa Yara' dua and was meant to last for only three years.
Boroh said the amnesty programme has met its mandate of providing peace and stabilizing the Niger Delta security environment through its training and empowerment of ex-militants and is now due for termination.
He explained that the 92 percent (21,805) of those schooling abroad and those undergoing various skill training out of the 30,000 estimated beneficiaries had graduated leaving only 8 percent (8,195) to be engaged in agricultural programmes.
"We have successfully trained a total of 21,805 amnesty beneficiaries in both our local and overseas universities and in vocational training institutions within and outside Nigeria as pilots, marine engineers, oil and gas engineers, medical doctors, lawyers etc, they have become valuable generation of skilled youths that are contributing positively to national development.
''Also, in line with government economic diversification policy, large numbers of our trained delegates are now empowered and deployed into various fields of agriculture and its value chain in order to revamp Nigeria economy.''
'' The services of 131 offshore universities/institutions to train 1,723 and from these foreign institutions, 1,523 have graduated with a balance of 200 that will graduate in 2018.  1054 ex-militants have graduated from Nigerian universities and there is a balance caseload of 2843 that are at various stages of their scholarship programme and most will graduate in 2018.
"Also, the services of 200 local and foreign Skills Acquisition Centres was utilised to train 15,140 beneficiaries. Under its post training empowerment, 4,203 have been empowered and delegates have established their businesses, they are now entrepreneurs and are helping to provide gainful employments to other youths.
"With these, it is obvious that the programme has met its strategic mandate.  This was achieved with the efforts of the federal government, PAP, PANDEF and the youth leaders.
"That is why we are highly desirous to wind down the amnesty programme very soon," he added.
On his 2018 programme plans, the Coordinator said his office will continue to deepen its agricultural empowerment programme in line with federal government green alternative initiative and use it to create jobs for youths, with special interest in rice farming, fish pond, piggery and snail farming.
According to him, the training of delegates has already commenced in cluster farms in the nine Niger Delta states.
"My office has projected to empower and create 10,000 new farms owners, who will then employ 40,000 farm workers, their logistics and processing agricultural value chain will also create additional 30,000 new jobs, thus making our Agricultural empowerment scheme to provide 80,000 new jobs."
''We have concluded discussions with a trawler company, the Greek Fisheries Institute to use the Burutu sea port in Delta state to train and engage 1000 ex-militants into commercial aquaculture fishing business.''
However, Gen. Boroh informed that that some African countries have shown interest in applying the method used by the amnesty office to achieve peace in the Niger Delta.
He listed Namibia, Uganda, and Cote D'Ivoire, as some of the countries that have sent in their request and assured that the PAP would do everything possible to export the expertise in line with the United Nation's principle.  
Copyright Ships & Ports Ltd. Permission to use quotations from this article is granted subject to appropriate credit given to www.shipsandports.com.ng as the source.