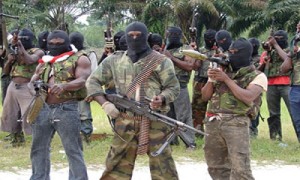 Militant group Niger Delta Avengers (NDA) said on Wednesday it planned to launch fresh attacks on facilities in the country's oil sector within the next few days.
The group claimed responsibility for most attacks on oil facilities in the Niger Delta in 2016, which cut Nigeria's crude production from a peak of 2.2 million barrels per day to near one million barrels per day – the lowest level seen in Africa's top oil producer in at least 30 years.
"This round of attacks will be the most deadly and will be targeting the deep sea operations of the multinationals," NDA said in a statement on its website Wednesday. 
The group, which wants a greater share of the country's energy wealth to go to the impoverished Delta region, said its targets would include Bonga Platform, Agbami, EA Field, Brittania-U Field and Akpo Field. 
In 2016, NDA carried out several attacks including bombing the Forcados sub-sea pipeline, a strike which involved the use of divers. 
In November 2017, the group said it had ended its self-declared ceasefire.  
Copyright Ships & Ports Ltd. Permission to use quotations from this article is granted subject to appropriate credit given to www.shipsandports.com.ng as the source.