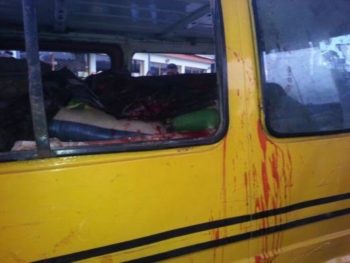 Some officials of the Nigeria Customs Service (NCS) yesterday shot and killed a young man at about 08:00am in Abule-Egba area of Lagos State. 
The victim, identified as Toheeb Olayiwola, boarded a public bus to convey him to his place of work but was hit on his head after Customs officers fired shots at the bus he boarded.
It was gathered that a commercial bus conveying passengers and food items was stopped by two Customs patrol van.
Narrating the incidence, one of the passengers said they were shocked when they were stopped and Customs official immediately opened fire on them.
"We noticed custom vans were following us and the driver stopped. When we stopped, our driver got down to meet them while the passengers were in the bus. Immediately about six of them came out of the van, surrounded our bus while we are still in it and they started shooting," the passenger recounted.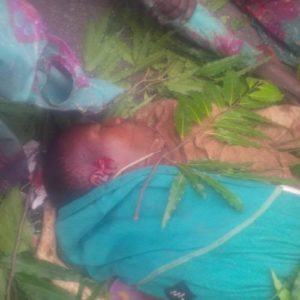 The driver of the commercial bus, Yinka Ajayi said the rice he was carrying belonged to a trader who bought them at Sango market and was taking it to Agege Market to sell. He added that the Customs van has 'Nigeria Customs Service, Ikeja Patrol Van' written on it.
He said, "I am a bus driver and I go through Agege to Sango every day. On each trip, I carry people and sometimes traders that buy food materials at Sango market like today. This morning, I was carrying 10 bags of rice and 5 passengers when I noticed that Customs were following me. I stopped at Abule Egba and one of the two Customs vans came to block me at the front while the other stayed at the back. I was asked what I have in the bus I told them it is a passenger's rice, which was bought at Sango Market.
"As I was still talking to them, some of the Custom officers came down and started shooting at my bus with passengers inside the bus. Three people were hit, one of them was hit at the head and he died immediately and others that got wounded have been taken to the hospital. I was also beaten and hit with the butt of a gun. The patrol van has 'Ikeja Patrol Van' written on the it. One of the Customs officers was identified as Fola and another as Tunde.
Baffled as to why he was stopped, the bus driver questioned why Customs would be operating within the local communities.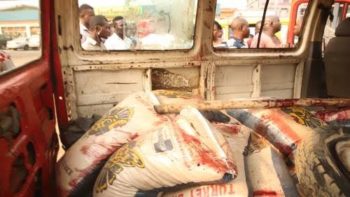 "I am not coming from Seme border, the rice was bought at Sango market, so why should Customs be stopping us?" he queried.
Another bus passenger, Saheed Olayemi, who was injured in the shootout said the Customs officers fled the scene after discovering they had killed someone.
"We were going from Sango to Agege when the Customs stopped us. They just started shooting us immediately without allowing us to come out of the bus. I sustained a wound on my neck in the process of running from being hit by a bullet. 
"The Customs ran away when they noticed that one of us has been shot in the head and died and passers-by were coming to the scene," he said.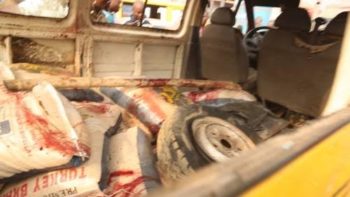 A brother of the deceased, Muyideen Olayiwola, who was also at the scene of the incident, disclosed that his wife just gave birth.
"I received a call that my brother has been killed by Customs, I was shocked because he still spoke to me this morning. His wife just delivered a baby on Saturday and it is unfortunate that this is happening today," Olayiwola said. 
Confirming the incident, Commander of Rapid Response Squad, ACP Tunji Disu said he deployed his men to the scene immediately to restore law and order in the area. He acknowledged that the boy was killed while others were injured but couldn't ascertain if those involved were men of the Nigeria Customs Service. 
Similarly, Lagos Police Public Relations Officer, Chike Oti said the Police are on the situation and would get a report of what happened in the area. 
"I confirm there was an incident between the Customs and some people in a commercial bus alleged to be smugglers. Police have taken over the situation and our men have been sent there to maintain law and order," the Police PRO said. 
But in its reaction, the Federal Operations Unit Zone A, Ikeja claimed that no life was lost in its officers' encounter with "an alleged rice smuggler" in the early hours of Wednesday in Lagos.
The Public Relations Officer of the unit, Jerry Attah, in a statement yesterday said, "On Jan. 17, 2018 at about 05.30hrs, operatives of the Federal Operations Unit, acting on a tip-off, traced one LT Bus Loaded with unspecified bags of smuggled foreign parboiled rice from Sango Area and eventually stopped it at Abule Egba.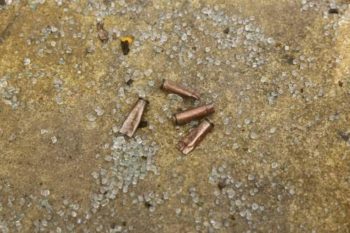 "Before he was finally halted at Abule Egba, the driver started shouting and making inciting comments that attracted mob action against the officers with different dangerous weapons such as broken bottles, stones and cutlasses.
"Obviously, he had driven to where he could get his associates to help attack the Customs Officers.
"Given support of the mob, he resisted lawful arrest and the other armed operatives fired shots in the air to disperse the raging mob but to no avail.
"As a responsible organisation, the officers retracted back to avoid any casualty.
"We appreciate and thank God that no life was lost as at the time of the confrontation, even though two of our officers sustained injuries."
The statement, however, maintained that "for the avoidance of doubt, the fact that a smuggler has evaded scrutiny either by following an unapproved route or compromising any officer does not guarantee that the smuggled item will not be seized anywhere it is found by patrol officers whose duty is to ensure compliance."