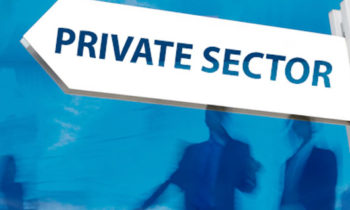 By Bolaji Akinola
Many in government carry on as if the private sector is a nuisance. They talk down on the private sector, criticize and do all within their powers to drag down private sector operators. This is one posture I find a bit confusing and incomprehensible.
The evidence is clear; the private sector is the engine of growth. Successful businesses drive growth, create jobs and pay the taxes that finance services and investment. In developing countries, the private sector generates 90 per cent of jobs, funds 60 per cent of all investments and provides more than 80 per cent of government revenues.
Private companies are providing an ever-increasing share of essential services in developing countries, such as banking, telecommunications, health and education. Foreign investment, particularly in the maritime industry, can accelerate domestic development and must be encouraged by all means.
If it must grow, the Nigerian economy needs the private sector. We need foreign investment. The penchant for deriding foreign investors must end. Regulating is not the same as destroying.
Sustainable and inclusive private sector-led growth that contributes to reducing poverty does not happen of its own accord. The private sector needs to be encouraged and supported so it can produce high and inclusive growth while still generating the profits needed to succeed and grow. This has become imperative especially in the maritime sector where it has become fashionable to deride and demonise private operators and investors. Curiously, all the government agencies operating in the maritime sector (without exception) draw their resources 100 per cent from private operators.
The Nigerian Maritime Administration and Safety Agency (NIMASA) for instance derives all its earnings from the three per cent it collects on freight charges from shipping companies, the Sea Protection Levy and the Cabotage Levy. The Nigerian Shippers' Council survives on one of the seven per cent collected from cargo owners as port development levy, while the Nigerian Ports Authority derives all its revenue from payment by shipping companies and terminal operators. In addition, more than 80 per cent of maritime sector workers are employed by the private operators.
Rather than crucify and destroy these private enterprises on the pages of newspapers as we have seen happen in recent times, government needs to provide good policy, strong institutions and efficient public goods and services to ensure operators can thrive and the benefits of growth reach all citizens.
As well as developing and prosecuting policies which promote growth, governments must also commit to developing and sustaining institutions that implement, oversee and regulate those policies in a cordial and convivial manner. This is the enabling environment that encourages the private sector to invest. The vast majority of constraints to growth identified by the private sector in the maritime sector are directly linked to government decisions and action.
Government's policy and legislative decisions determine to a large degree the scale and quality of economic growth and the private sector's role in it. The model of an open, maritime-oriented economy with a flourishing private sector gives Nigeria the best chance of increasing prosperity and living standards.
The present state of the economy has posed serious challenges to private operators and this has hampered the abilities of some of them to meet their obligations to government. But this is not enough reason for crucifying these operators on the pages of newspapers.
The government men and women in the maritime industry are the real day-to-day problems that stand in the way of job creation and growth. Attitudes must change; companies must be encouraged and not unduly vilified if the country must enjoy the benefits of capitalism.
Copyright Ships & Ports Ltd. Permission to use quotations from this article is granted subject to appropriate credit given to www.shipsandports.com.ng as the source.