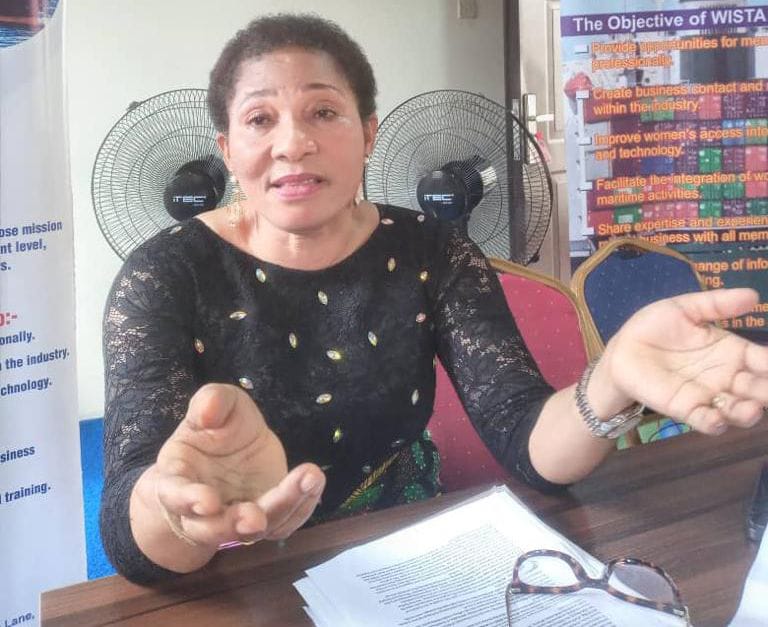 The President, Women's International Shipping and Trading Association (WISTA) Nigeria, Mrs. Eunice Ezeoke, in this interview with SHIPS &PORTS' Abolanle Oluwatola, speaks on the marginalization of women in the maritime industry and the way forward.
How has WISTA performed in promoting gender equality and empowering women in the maritime and trading industries in Nigeria?
WISTA is about minimising the existing gender gaps in leadership in the maritime industry, trading and logistic sectors. To help women in this area, WISTA builds networks, contacts, encourages mentorship of the younger members and sensitises the girl child by exposing them early to the many opportunities in the sector. We achieve this through sponsorship and collaboration with corporate bodies and organisations. We assist our young seafarers and cadets with sea time training certification and job placement sometimes. During sensitisation, we go to schools to educate them about the opportunities available in maritime. On job placement, we have done quite a few. Some of these seafarers need recertification from time to time. Early this year, we assisted one to go to Egypt to get her recertification. Then we also expose them to new and emerging trends in the sector by organising frequent workshops where we interact with them. We collaborate with other associations like the Association of Lady Seafarers to organise some events. We offer scholarships to best performing female students at the Maritime Academy of Nigeria and other institutes. We collaborate with shipping companies and the Nigerian Ports Authority to empower rural social women in the coastal states by providing shipping boats and accessories to help build their shipping business. We have done for Lagos, Anambra, Enugu, Bayelsa and we are planning another one for Adamawa and Ondo women. We also organise annual business luncheon where industry bigwigs are invited to educate on topical issue about the industry. We also promote visibility for women in the maritime industry.
What is the impact of gender-based discrimination on women seafarers in the country?
The impact has been felt for some time. However, attention has been drawn to it in Nigeria and internationally. That is why the International Maritime Organisation (IMO) dedicated a day to celebrate women in the industry including the seafarers on the Maritime Women's Day usually celebrated on the 18th of May every year to educate the women about gender sensitivity and what seafarers go through at sea. It was created by Kitack Lim. This year, WISTA visited seafarers at the Maritime Academy of Nigeria, Oron and they were encouraged to speak out when they feel marginalised or abused in any way. When they speak out based on the empowerment from International Maritime Organisation, we take it seriously. Furthermore, modern shipbuilding has added more facilities in the vessels to cater for the special needs of women aboard ships. I am not saying the act has been totally eradicated because there are still reports here and there but the frequency of the report and occurrence has reduced. Now, women are also getting very resilient in terms of proving their competence on the job and instead of being reduced to tears, they fight back in terms of working under pressure for long hours in order to resist thoughts that would have made them to crumble. These are the areas that they have weathered the storms on gender discrimination.

What challenges have you noticed that women in maritime still face in their careers, asides gender discrimination?
Women face under-representation in leadership roles, gender biases, limited networking opportunities, social and cultural barriers. Many women also lack awareness about major shipping issues because of few female mentors. Women also face problems associated with social norms practices and acceptability, cultural and religious setbacks. Socially, most of the women occupying positions of authority and power are portrayed as not being good mothers at home. Some men have said that women are not up to standard in terms of ability, capacity and they have used these as an excuse to exclude them in some important decision-making in the sector. I also discovered that our government has been paying lip service to women inclusivity in positions of authority and decision-making. A board of ten members will be created for an agency or corporate body and you have only one woman. Even the 35 % affirmative is becoming ineffective. Why will one woman be used to garnish a committee made up of twelve men? Secondly, government finds it difficult to appoint women in some positions. Some federal government agencies in Nigeria have never been headed by a woman. For instance, NPA, NIMASA has had only one woman as the head. The Customs service, military, airforce, navy, NRC has not had a woman as their head before, yet they tell us that women compose over 80% of the population. How then is it that only 20% of the population is occupying the major and significant offices to the detriment of the 80%. In ministerial positions, women are made junior ministers but when it comes to Minister of Women Affairs, they will pick a woman. For me, that is gender mainstreaming. Furthermore, in political parties, you will have party chairman as a man and woman leader. As far as I am concerned, it is nonsense. Is the party chairman leading only the men while the woman leader leading the women? These are psychological nomenclatures that they use to control and put down women. When it comes to the political terrain, the women and the youth are the most marginalised. Sometimes, women also pull each other down and the men use this against them. In my opinion, they should abolish the post of the woman leader and allow everyone to vie for the available positions.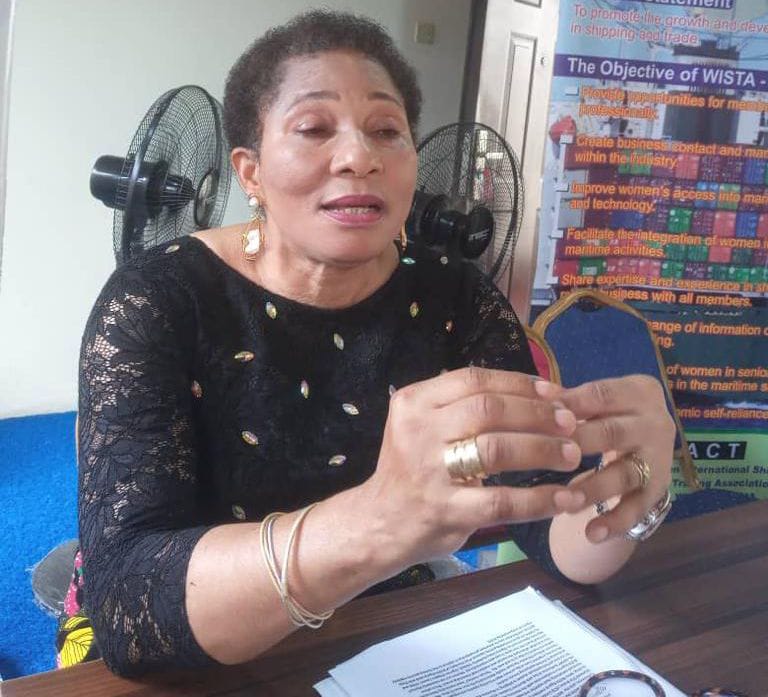 Being a former Port Manager at Lagos Port Complex, what improvement can you say have occurred in port operations?
One of the major milestones on port operations is the port concessioning. Port concessioning occurred and corporate bodies were allowed to take over while government remains regulator of the port industry. Throughput has improved, ease of doing business improved but there are still some challenges. Take for instance, the age of the port infrastructures. Every port has a lifespan and once this approaches, changes need to be made to further the life and activity of the port. Lagos Port Complex is almost a hundred and twenty years old. It is old but there are no changes made to it in terms of infrastructures. Maybe there is no room for extension and expansion anymore but that is why other ports need to come on board. The old ports should be dedicated for specialised duties while other ports come up. The new ports do not necessarily have to be big. It could be a two-berth or three-berth port. This will decongest the old and existing ports. If you build small ports of two to three berths, even if you do not call them ports, they can be called jetties so that they can be receiving vessels especially ocean-going vessels. This will decongest the former ports. The container terminal in Antwerp has five ports dedicated to crude oil refining. They bring in and refine. That is what we need in Nigeria today. You cannot have a port today and say it is multipurpose receiving dry bulk, liquid bulk, containers, general cargo and vehicles. There will be confusion. We have gotten to the level in Nigeria where we should be having dedicated and specialised ports. When we have that, it will reduce the stress on the existing port and the stress on the roads leading to the ports.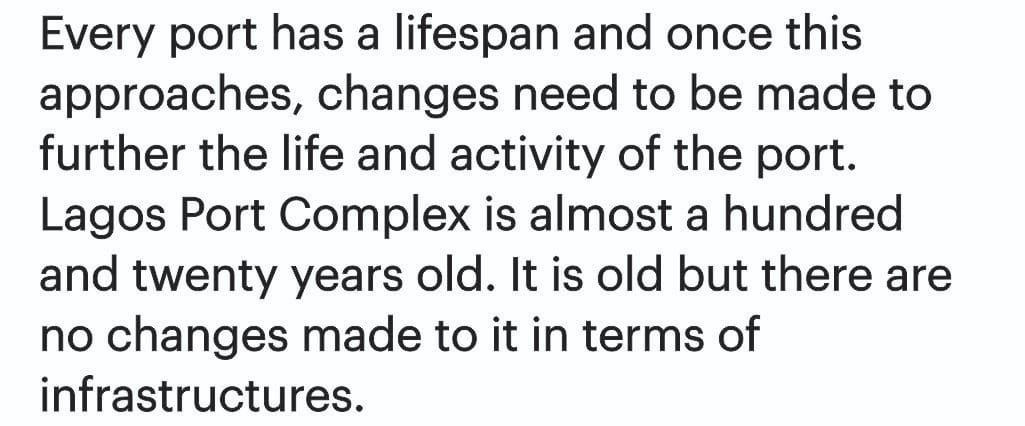 How have you been able to handle work and family together in this line of profession?
I must say that it has not been easy but it is possible. The home-office work balance must be adopted by women in that women must plan their day, work and home so that they fit in. An understanding partner also helps. I was doing this work and also doing school runs. When it is time, I take my children to school and come to work. When they close, I go pick them, drop them and come back to the office. I did all of these. Women are natural multitasking beings. They manage the home front, the husbands, children and careers. In addition to this, there are cultural and social expectations and demands on them which can be burdensome on them. Nevertheless, this gives them the ability to excel in corporate management. However, to promote the advancement of women in maritime, government needs to create some flexibility for female employees by introducing remote working schemes especially for young mothers. This will help in their career development and advancement. You discover that when some women get married on the job and start having children, they resign. It terminates their career and talent, which they would have used to contribute to society. I know some seafarers that when they had children, they resigned but when their children grew up a bit, they came back so, these are the areas the government can help. Some private corporate bodies are already doing that. However, government have not adopted this.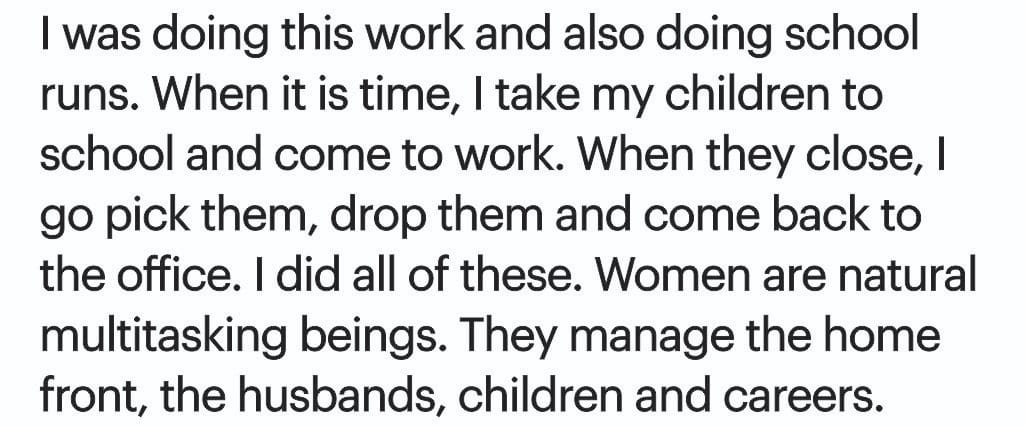 What is your advice to upcoming women in the shipping sector?
My advice to them is to be resolute, persevere, focused, work hard, and determine to succeed against all odds. They must have decision-making abilities and practical application of knowledge. Furthermore, they must be independent minded and engage in self-improvement while keeping abreast of the changing trends in the sector.
Copyright Ships & Ports Ltd. Permission to use quotations from this article is granted subject to appropriate credit given to www.shipsandports.com.ng as the source.