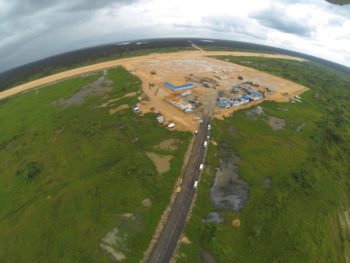 The Bayelsa government and contractors handling the Bayelsa Cargo Airport project have held divergent views on the availability of funds toward the completion of the project.
Bayelsa government had in 2015 secured N40bn loan to complete the airport project whose timeline has been shifted several times.
The project that started in 2012 was conceived as a partnership between Bayelsa and Federal Governments under Goodluck Jonathan presidency.
The Federal Government was expected to handle the terminal building, while the state government handle the rest.
However, while contractors confirmed the delay in the project delivery date, which has been postponed several times, government officials blamed the delay on a botched collaboration with the Federal Government for financing part of the airport project.
The State's Commissioner for Works and Infrastructure, Lawrence Ewhrudjakpo, had in 2016 said that the first flight would land at the airport by December 2016.
The government at the last count fixed the inaugural flight from the Bayelsa International Airport, Amassoma, at the first quarter of 2017.
Indications from the project contractors showed that the project might not be completed until October.
The proposed completion date of October, according to contractors at the site, was still subject to the timely release of funds to the contractors handling different aspects of the project.
The contractor handling the runway, apron and a terminal building said work done so far at the terminal building was just about 35 percent while the overall project was about 80 per cent.
Assistant Project Manager, Dantata and Sawoe,  Samson Aniedi, said a lot of milestones had been achieved toward the completion of the apron, runway and terminal building, adding that fund was hampering the completion of the project.
He said, "The project has three kilometres runway, it will be one of the best airports in the South-South to surpass that of Port Harcourt and categorised as Category D.
"The airport is made up of 200 square metres Apron where cargo and planes will park.
"A lot of sand filling was done due to swampy nature of the terrain.
"Apron casting is about 35 per cent completed and can accommodate four 747 cargo planes when completed while taxing way suspended at the moment due to some issues."
Anedi said with proper funding, the project should be ready for the first flight sometime in October.
He said that Aviation Regulatory Authorities were already on the ground to supervise the work to standard and specification.
Bayelsa Commissioner for Information, Jonathan Obuebite, insisted that the airport project was some 80 per cent completed, adding that delay in the terminal building put at 35 per cent completion was being addressed.
Obuebite declared that funds for the project were not diverted.
"The state government decided to take a loan to fast track the project because the Federal Government was not forthcoming on the collaboration to fund the airport terminal building.
"Whoever told you that the project is lacking fund is not well informed," he said.