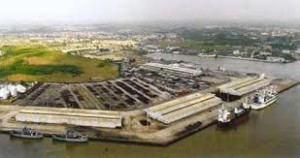 Delta State Association of Chambers of Commerce Industry Mines and Agriculture (DACCIMA), has called on the Federal Government to reopen the Warri port.
The Chairman of DACCIMA, Chief Emma Avworo made the call while honouring some prominent businessmen in the state for their role in sustaining the economy of the state. He said reopening the port would help reduce challenges of unemployment in the Niger Delta and resolve the problem of militancy.
Avworo urged the Federal Government to come up with policies to encourage the growth of the private sector, stressing that the sector had been a major player in keeping the economy alive.
He said, "We recognise the contribution of our sons, for being able to withstand the economic challenges in the last few years.
"We are also honouring them for creating employment. Despite the lull in the economy of Warri, most of the employment in Warri today is from the private sector.
"Our challenge is that of the Federal Government that is supposed to provide the enabling environment; they are not helping so much. Take the Warri port for instance, if this port was opened you can imagine how many persons will be employed there. We depend on Lagos for importation. This is why we are honouring our businessmen today for being able to survive this year."