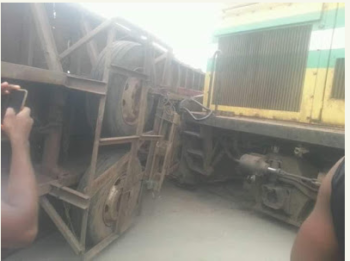 An early morning Umuahia-Port Harcourt bound train with number 2212 on Friday ran into an articulated vehicle in Aba but without casualties.
Both the train and the vehicle were damaged.
The accident, which damaged the electrical connections in the train's engine, left it immovable on one part of the road, crippling traffic for many hours in the town.
The accident also left businessmen and women, workers stranded in a gridlock, thereby making it hard for them to attend to their businesses.
An eye witness said that the accident happened at about 5:45 a.m.
Cyril Ohaegbu, a bread seller whose shop is by the Railway Flagmen office, said he had resumed for business when the accident happened on the GRA/Eziukwu level crossing.
Ohaegbu said that some policemen were conducting stop and search at a spot very close to the railway track when the accident occurred.
He said, "The driver of the articulated vehicle was being stopped by the police and he didn't stop but when he reached a point, he became confused because of the intensity of the moving train's horn.
"Because his vehicle is the long type, he did not know whether to go forward or backward so he stopped there and ran away. That is why the train hit his vehicle."
Ohaegbu said that some flagmen were at work when the accident occurred.
Another witness, who is a ticket issuer for commercial buses, said he was close to Mr. Biggs eatery when the accident occurred.
He said it had caused much confusion and left people stranded on the road.
Okechukwu Ebere said "policemen were stopping the driver of the articulated vehicle but he failed to stop.
Ebere suggested that the problem was caused because the railway level crossings in Aba had lost their Boom Barriers which bar vehicles from crossing when trains are approaching.
He urged government and NRC to replace the barriers to save lives of residents.
The Nigerian Railway spokesman,  Uwalekwu, declined to make comments when a correspondent approached him.
But the Police PRO, ASP Ogbonnaya Nta, said the Police Command believed the incident happened on Thursday and that it was the vehicle that hit the train.
He also said the command had not received any official report on the accident, adding that the Railway Police unit had arrested two people.